More info
Watchguard LC-PACK1 2020 3G Wireless Alarm System
RC-ALC-PACK1
The Watchguard 2020™ Wireless Alarm System comes with a sleek modern design and a user-friendly front panel that is ultra responsive to touch. With a SIM slot that supports 3G SIM's and networks, it is your best guard against would-be intruders, one that would notify you via SMS text message or phone call upon detection of intrusion or abnormalities. You can turn the unit on and off and set up extra sensors and zones directly on the panel, via a paired remote control, a paired RFID tag, its iOS or Android smartphone app, an SMS text message or a phone call.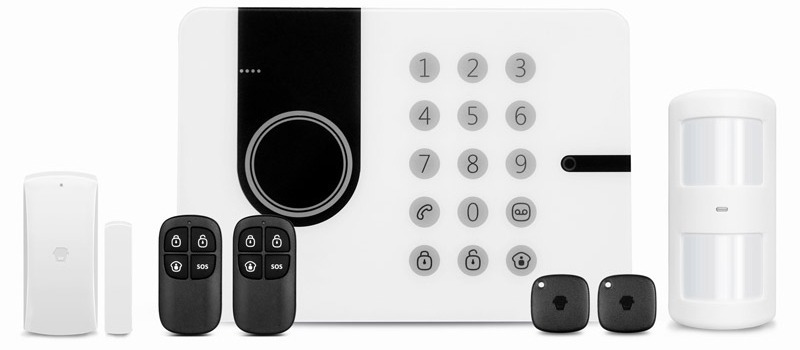 The Watchguard 2020™ Wireless Alarm System works with a wide range of wireless, battery-powered sensors and accessories that are easy to set up and operate, so you can scale up or down the system based on your specific residential or security needs. Up to 50 sensors and accessories can be installed which gives you a huge range of possibilities.
The system can be set up to let you know if there is an emergency at home with smoke alarms and water leakage or flood sensors. You can use the simple administrator alert system to let you know when the alarm has been disarmed by a user which is useful for letting mom or dad know when the kids are home from school while they are at work. All you need to add to get this system up and running is a pre-paid 3G or 4G sim card from a provider which has good coverage in your area. 
 

Product Features:
Supports 3G SIM's and networks
Interact with system via control panel, remote control, RFID tag, smartphone app, SMS or a phone call
Internal siren volume 95dB
Connect up to 50 wireless sensors, 50 RFID tags and 10 remote controls
Administrator can be advised which user has disarmed the alarm
Simple arm/disarm via remote or mobile when entering/leaving
Alert notifications via SMS or phone calls (up to 5 mobile numbers)
Low-battery notifications from wireless sensors and accessories
DC12V power supply with backup 3.7V Lithium battery
* Mobile phone and SIM card not included
 


Included components:
 
- ALC-CP1 3G/WCDMA Control Panel x 1 
- ALC-DC1 Door/Window Contact x 1 
- ALC-PIR1: Pet-Immune PIR Motion Detector x 1 
- ALC-RC1 Remote Control x2 
- ALC-TAG1 RFID Tag x2