Swann SWNVK-874008B 4MP 8 Channel NVR with 8 x SWNHD-818 Bullet Cameras
SWNVK-874008B
Here is a great kit perfect for home or small business. This CCTV Security Camera kit consists of an 8 Channel Recorder with a massive 2TB Hard Drive, and 8 x Bullet 4 megapixel clear indoor or outdoor security cameras.
The cameras are capable of up to 30 meters night vision and the 4MP image resolution ensures you get clear usable footage of any incidents that might occur.
The Swann 87400 series NVR includes a 2TB HDD to store your recorded footage and can be connected to your existing TV screen or computer monitor using the VGA and HDMI outputs to watch live or review recorded footage.
We understand that not every kit may suit every customer and that you may only require 7 Bullets or 1 Dome and so on. We customize CCTV Security kids every day, it is not hard for us to pull out one or 2 cameras and swap with another style. Please call us for your customized requirements.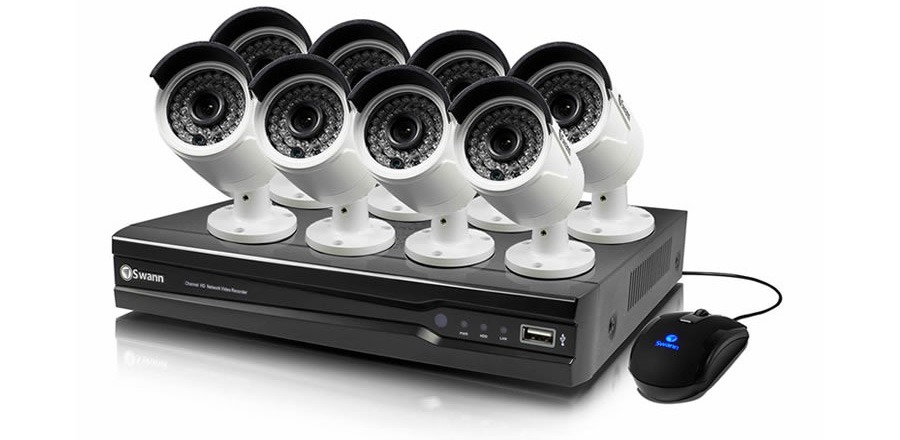 Key Features:
Swann's network video recording security system with 4 Megapixels Super high definition live viewing & playback at 25 fps per channel
Includes 8 x security cameras capable of generating Super high definition 4 Megapixels (75% more than 1080p) video with IR cut filters for powerful night vision to 30m & a weather-resistant rating of IP66 for indoor & outdoor use
You can also hear what's happening as each camera has a built-in microphone for crystal clear audio
Set & forget by recording continuously from 8 channels for 160 days+ onto a massive 2TB hard drive (expandable to 6TB)
Save time & have peace of mind by easily locating incident video, then transfer to external storage via USB or network
Security in the palm of your hand with live viewing on your Smartphone or tablet including iOS (iPhone, iPad) & Android devices using the free SwannView Link app
View live in HD on your HDTV via HDMI or VGA connection to your LCD screen
Professional surveillance system gives you peace of mind by being able to see the detail you need from longer distances including license plates, faces, clothing colors & more, all in Super HD
Wired or Wireless? This is a common question asked, do I need to run cables? For long term trouble free operation and reliability, it is always better to run a cable. Most of our kits on this site require the installation of a cable to each camera, the cables then simply plug into the recorder, turned on and the system works. You do not need to configure the cameras as they will work out of the box. Wireless cameras, although convenient often fail due to interference, battery problems or simply due to the technology, having said that - occasionally running cables is not an option and wireless is required. Please see our range of wireless security camera systems.
What's Included?
All items listed are new in original manufacturers packaging
*
1 x SWNVR-87400H CCTV Recorder with a 2TB Hard Drive
*
8 x 4MP Bullet security Cameras with 75º angle of view and Day & Night Vision
*
8 x Cat5e Camera Cables - both Power and Video/Audio
*
Power Supply for Recorder (Powers Cameras also)
*
Network 1.8Mtr Cable for connection to router for remote viewing
*
Mouse
*
Mounting Screws and Plugs
*
Operating Instructions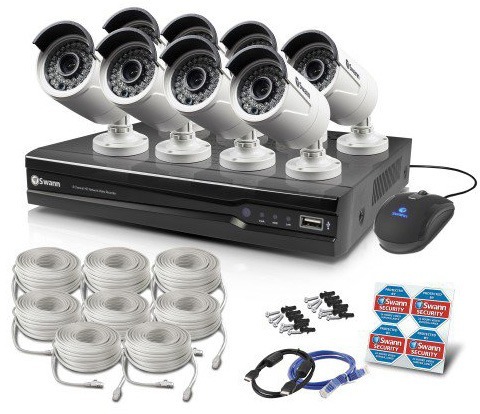 *Note:
Product contents may change without notice.