More info
Swann 4MP 16 Channel NVR with 8 x NHD-819 Dome Cameras
SWNVK-167408B
Here is a great kit perfect for home or small business. This CCTV Security Camera kit consists of a 16 Channel Recorder with a 2TB Hard Drive, 8 x SWNHD-819CAM Dome 4 megapixel indoor or outdoor security cameras. The cameras are capable of up to 30 metres night vision and the 4MP image resolution ensures you get clear usable footage of any incidents that might occur.
The Swann 167400 series NVR includes a 2TB HDD to store your recorded footage and can be connected to your existing TV screen or computer monitor using the VGA and HDMI outputs to watch live or review recorded footage. The SWNVR-16740H Network Video Recorder allows you to easily connect your security system to your modem router and using the swannview link app allows you to watch both live and recorded footage over your smartphone/tablet or web browser from anywhere in the world.
Once your system is connected to the web you can also set up e-mail alerts that allow you to be notified via e-mail whenever one of the cameras detects motion so you can log right in and see what is going on. We understand that not every kit may suit every customer and that you may only require 7 Bullet Cameras or 1 Dome Camera and so on. We customize CCTV Security kits every day, it is not hard for us to pull out one or 2 cameras and swap with another style. Please call us for your customized requirements.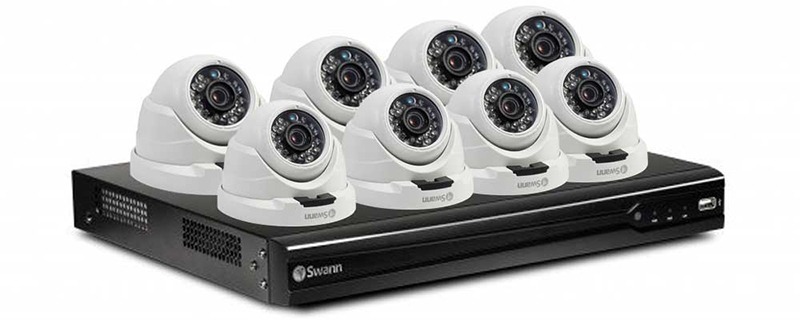 Key Features:
16 Channel system allowing you to add cameras as your needs change
Includes 8 4MP Extreme HD Dome cameras capable or recording 75% more detail than HD cameras
Cameras have powerful night vision, allowing you to see up to 30m at night and are weather proof
Each camera has a microphone allowing you to hear what's happening
View live cameras remotely on your smartphone or iPad
What's in the Box?
All items listed are new in original manufacturers packaging
*
SWNVR-16740H CCTV Recorder with a 2TB Hard Drive
*
Power Supply for Recorder (Recorder powers cameras so no need for another PSU)
*
8 x 4MP Dome security Cameras with 80º angle of view and Day & Night Vision
*
Network 1.8Mtr Cable for connection to router for remote viewing
*
8 x Cat5e Camera Cables - both Power and Video/Audio
*
Mouse, HDMI Cable &

Power Adapter

*
Quick Start Guide
*
Operating Instructions
*
Theft Deterrent Stickers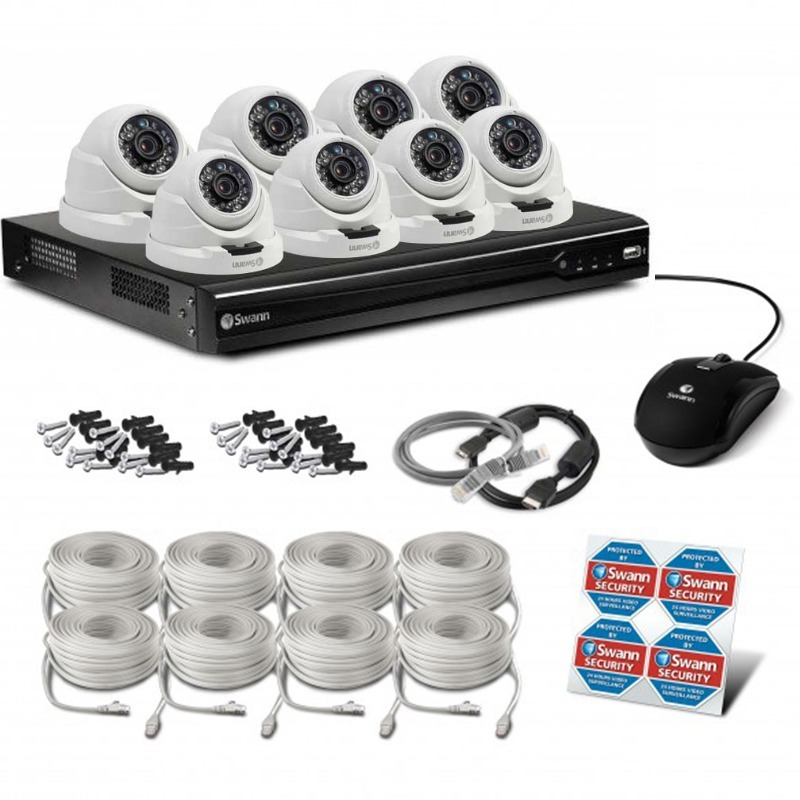 *Note:

Product contents may change without notice.