More info
Swann Doorstop Alarm - SWHOM-DOORST-GL
SWHOM-DOORST-GL
The Swann Door Stop Alarm provides security to your home from unauthorised entries. This alarm is very easy to install and does not require any wires. Loud enough to hear at any corner of your house. Alarm sounds when the door is opened. Detects forced entry through doors / Loud 110dB+ alarm sounds when the door is opened / Strong deterrence against intruders / Easy to install / Indoor use only.
With the Swann Doorstop Alarm protecting your home, apartment or small business has never been so easy and affordable. Simply place the Doorstop Alarm at the base of your door and when pressure is applied the alarm is triggered and will sound at any attempts of forced entry. Installation is a breeze! Just turn on and place at the base of the door you wish to monitor and you're done!
The alarm is battery powered so it's 100% wireless. When armed, any forced entry to your door will activate the Swann Doorstop Alarm to emit an ear piercing 110db+ siren, keeping you and your family safe. Choose the Swann Doorstop Alarm to protect your loved ones, home or business. It really is advanced security made easy!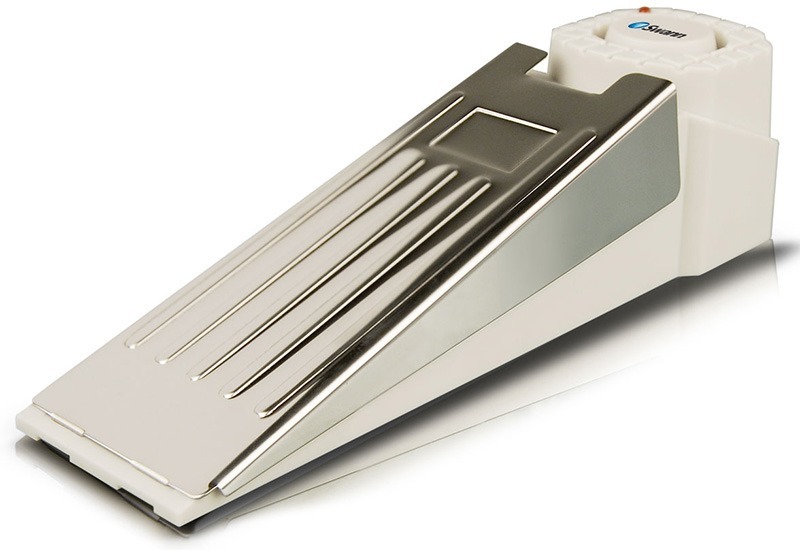 Key Features:
Powerful 110db+ siren sounds when pressure is applied onto the doorstop
Simple operation with an on/off switch for the alarm function
Heavy duty construction to withstand break-in force
Compact design for discreet positioning at entrance points
Requires 1 x 9V battery (not included); low battery indication assists with battery change over
Suitable for indoor use in doorways at main & back entrances, hallways, kitchens, living rooms, hotel rooms, offices, storage areas & more
Requires 9Volt Battery - we sell 9V batteries, please consider this when checking out. All our Batteries are fresh.