More info
HIGH DEFINITION - 2MP

Remote Viewing via Free SwannView App

No ongoing Fees - See & Hear
Swann Security Wireless High Definition CCTV Recording Kit with 4 Cameras - WiFi
SWNVK-485KH2
Supplied with 4 x 2MP High Def Cameras, a 4 channel receiver and accessories to suit, this kit is perfect for those not wanting a permanent CCTV installation or those wanting a Portable Wireless CCTV Solution.
Setup is very quick and simple, and you will be up and running in minutes. Fast connection to the app, and no configuration required when using the QR code for remote access.
While the cameras for this system connect back to the NVR recorder wirelessly each camera does still need power and comes with its own power adapter so that you can plug them into a normal wall socket or power board and power them locally without having the cables running all the way from the NVR to the camera.
Like the Swann GuardianEye, this product has a bit more bling. Larger Hard Drive (1TB), a wider 75° Angle of view, wireless cameras can integrate with 7400 series NVR and better night vision.
Using the Free Swannview App, connection is quick and easy. You can view the cameras when you are at home, away or even overseas. See and listen to the cameras, receive alerts for motion detection and view recorded footage. The footage is stored locally on the recorder therefore not using up your internet data and speed.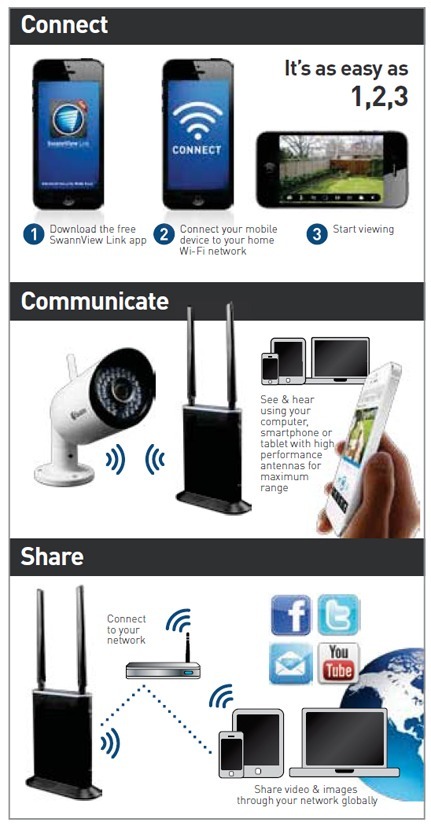 What's in the Box?

1 x WiFi 4 Channel 1080P 2MP Swann Security Recorder
1 x 1TB Installed Hard Disk Drive
4 x Day Night Weatherproof Wireless CCTV Cameras
3 x Power Supplies (1 for each camera and 1 for the recorder)
2 x 18Mtr Power Extension cables
Mouse
Network Cable
HDMI Cable
Instructions and Theft Stickers
Brand New Australian Stock sourced directly from Swann Security.