Watchguard NVR4ENTPACK3HD Compact 2.0 Megapixel NVR Kit with 4 x Bullet Cameras
4 Year Warranty
Watchguard™ 4 Channel Compact NVR with built in PoE
Pre-installed 1TB surveillance hard disk drive
4 x 2.0MP 40m infrared metal weather resistant bullets
CAT5 cabling for cameras: 2 x 10m, 1 x 20m, 1 x 30m
CAT5 patch cable for networking: 1 x 1.5m
Watchguard Compact 2.0 Megapixel NVR Kit with 4 x Bullet CCTV Security Cameras
NVR4ENTPACK3HD
The Watchguard NVR4ENTPACK3HD is a compact, high definition surveillance system ideal for homes and small businesses. This CCTV package includes four 2.0 megapixel, weather resistant bullet cameras capable of recording 2.0MP (1920 x 1080) high definition footage in real-time 25fps. The network video recorder has a built-in 4 port power over Ethernet switch, allowing easy plug and play installation.
The NVR includes a pre-installed 1TB hard drive. Video quality and frame rate can be adjusted to increase the recording time. The NVR also features continuous recording where old footage is overwritten when the hard drive is full. The NVR also includes motion detection recording, record scheduling and network feed access.
This NVR offers a comprehensive range of remote view options so you may monitor your premises on the go. You can connect to your Watchguard CCTV system via local and network PC; through applications available for iOS and Android operating devices; and for Windows Phone smartphones.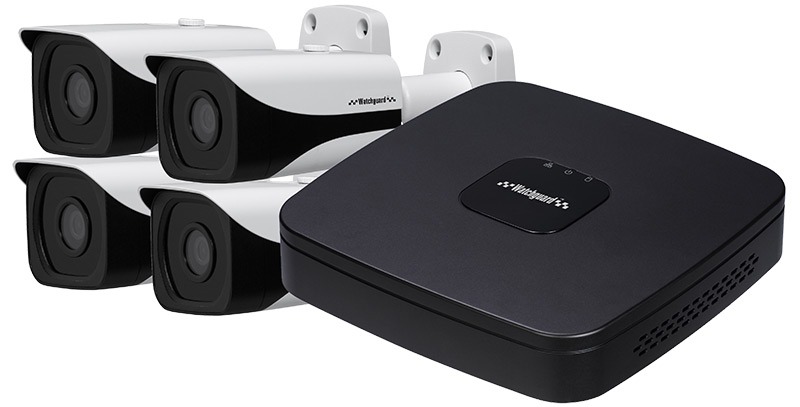 Product Features:
2.0MP surveillance kit with pre-installed 1TB HDD
Records 2.0MP (1920 x 1080) at 25fps real-time
Easy install with built-in 4 port PoE switch
HDMI and VGA simultaneous video output
4 x 2.0MP True WDR 40m IR IP67 metal bullets
Easy remote view configuration via QR code
View on iOS, Android & Windows Phone devices
All required HDMI, CAT5 and power cables included
Package Includes:
All items listed are new in original manufacturers packaging
*
Watchguard™ 4 Channel Compact NVR with built in PoE
*
Pre-installed 1TB surveillance hard disk drive
*
4 x 2.0MP 40m infrared metal weather resistant bullets
*
CAT5 cabling for cameras: 2 x 10m, 1 x 20m, 1 x 30m
*
CAT5 patch cable for networking: 1 x 1.5m
Warranty

2

,Video Inputs

4 channel

,Video Outputs

1 HDMI / 1 VGA

,Display Resolution

1920 × 1080, 1280 × 1024, 1280 × 720, 1024 × 768

,Compression Format

H.264 / MJPEG

,Record Modes

Manual / Schedule (Regular [Continuous], MD, Alarm) / Stop

,Backup Method

USB Device/Network

,Dimension of Recorder

Smart 1U, 205mm× 205mm× 45mm

,Remote Connection

iOS (iPhone, iPad); Android devices, Windows Phone

,Recording Resolution

Configurable from 5.0MP(2560 x 1920) to D1 (704 x 480

,Incoming Bandwidth

80Mbps

,Operating Power

-10 ~+55°C / 10~90%RH / 86~106kpa

,Alarm Inputs

N/A

,Alarm Outputs

N/A

,Computer Operating System

Embedded Linux

,Network Functions

HTTP, TCP/IP, IPv4/IPv6, UPNP, RTSP, UDP, SMTP, NTP, DHCP, DNS, IP Filter, PPPOE, DDNS, FTP, Alarm Server, IP Search(Support VIP Vision IP camera, DVR, NVS and etc.)

,HDD Modes

N/A
Products in the

same Category
2 other products in the same category: