Wireless Door Chime with Stylish Black Finish
SWHOM-DC830B
Easy DIY completely wireless installation / Choose from 16 built-in chimes / Adjustable volume / Sleek black design / Up to 30mtrs-50mtrs transmission* depending on location.
Are you sick of hearing that boring old 'ding-dong' when somebody is at the door? With the Swann Wireless Door Chime, you can choose from 16 inbuilt chimes allowing you to change tones whenever you like. The stylish gloss black finish complements any modern home decor.
The Swann Wireless Door Chime is 100% cable free, running off 3 x AA batteries (not included), allowing you to place the Push Button Doorbell Unit up to 50mtrs - usually 30mtrs from the Speaker Unit. Even better-being battery powered you can place the unit virtually anywhere allowing it to be moved around the home and relocated when moving house.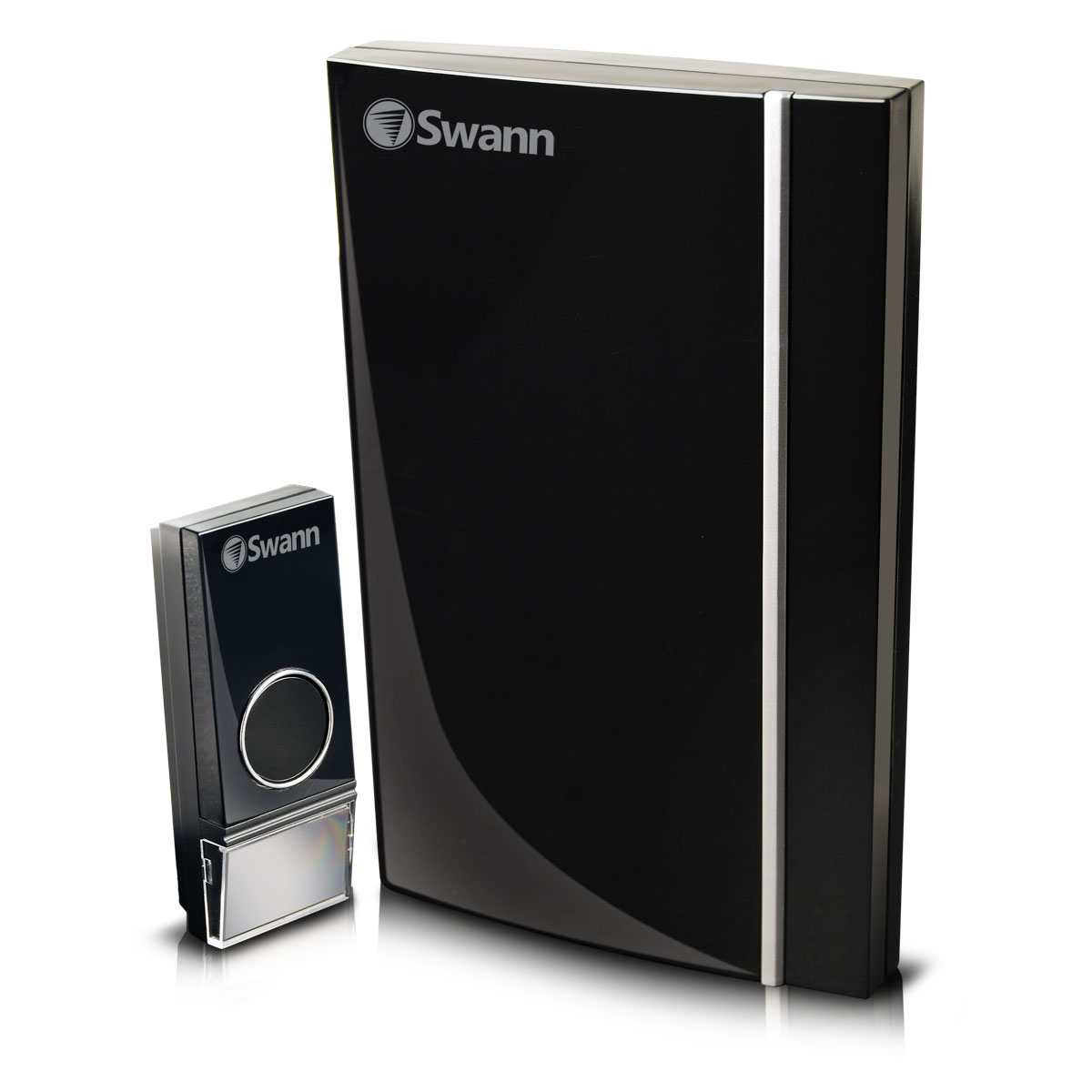 Everything you need for a 5 minute DIY installation is included in the pack, with mounting screws and double sided tape. The Swann Wireless Door Chime with Stylish Black Finish - it's advanced security made easy.
Key Features:
A stylish door chime system that's completely wireless to suit any home decor
Push the doorbell & hear a melodic door chime - with 16 chimes to choose from
Adjust the volume level to suit your needs
Write your name on the doorbell nameplate
Easy wireless installation mounts to walls & runs from 3 x AA

*

battery power with up to 50m range

*
Modern piano black gloss finish looks at home in even the most stylish home or office decor
* Note on Range: Distance of this product is determined by the location and the density of walls where the product is installed. This product in an open field can achieve distances up to 100mtrs, however, when positioned in the home environment may only achieve 30mtrs. Also in a factory unit where there are thick concrete walls, the distance may decrease to 20mtrs. Mounting the transmitter on a concrete wall versus a timber wall will reduce the distance - Having windows and open areas helps with the distance.
Like any wireless product, every environment is different and you will need to move the product to a spot where the product works - generally, the product works well in most homes and offices where the receiver is in the 20-30mtr range.
NOTE:

This product requires 3xAA Batteries to operate. We sell batteries under our Accessories tab.