More info
Easy DIY Completely Wireless Battery Operated Door Chime with a Max Distance of 50Mtrs
SWHOM-DC805B
Thank you for choosing the Swann Wireless Door Chime. It's an ideal unit for easily installing a doorbell without the hassle of wiring. Simply add some batteries, mount the two pieces where needed and you are ready to go! The doorbell features 16 chimes to suit your needs.
The doorbell is mounted by sticking it to a wall using the included adhesive strip(s). The doorbell is not water nor weatherproof and must be installed in a sheltered location. Exposure to rain, moisture or direct sunlight will adversely affect the performance and durability of the doorbell. There is no requirement to mount the chime unit.
You may find it more convenient to place it on a shelf or table. One of the benefits of a battery operated wireless doorbell is that if you have a large house, you can take the receiver with you. No more missing visitors because you were all the way at the back of the house or by the pool! If you would like to mount the device, you simply need to attach a screw to a wall. Depending on the surface, you may need to drill guide holes and/or use masonry plugs or drywall anchors.

Key Features:
A compact door chime system that's completely wireless to suit front & back doorways
Push the doorbell & hear a melodic door chime with 16 chimes to choose from
Easy wireless installation mounts to walls or carry with you around your home as a portable doorbell unit
Runs from 2 x AA* battery power with up to 50m range+
Cream finish suits any home or office décor
What's Included:
All items listed are new in original manufacturers packaging
*

Speaker Unit

*

Doorbell Unit

*

LR44 1.5V Batteries x 3 (installed in Doorbell Unit)

*

Requires 3 x AA Batteries for Speaker Unit (not included)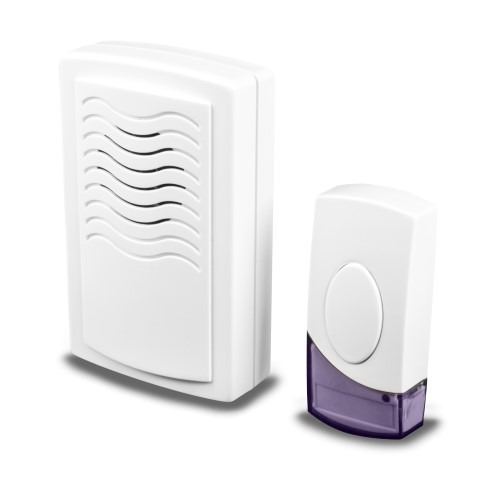 *Note:

Product contents may change without notice.