Swann 5MP SODVR-84980H 8Ch Recorder 2TB HDD Suits 5MPMSB/D Security Cameras
In Stock - Ships from Sydney
This DVR works with all Swann Analogue cameras so it makes a great upgrade or replacement unit.
Up to 5MP Resolution
2TB DVR HD Size
BNC (DVR) Cable
Warranty: 12 Months
App HomeSafe View
Choose from Various Payment Types.
Paypal, Credit Card, ZIP Money, Afterpay, Bitcoin & Direct Deposit
Shipping we're fast!
99% of our orders leave us the same day of ordering. Express Shipping options available at checkout.
Fast Reponses to Warranty & Support
We answer your questions fast. Great Australian Company based out of Sydney for over 20 years.
Swann 8 Channel Security System: 5MP Super HD DVR-4980 with 2TB HD (Plain Box Packaging)
SODVR-84980H
Get security evidence in Super HD 5 megapixel. 5MP is 2.4x clearer than 1080p/2MP, allowing you to zoom in to essential details such as license plates and faces. An 8-channel security system suits medium-sized properties for outdoor and indoor surveillance. See the Compatible Products section further below to see which cameras you can add to this DVR-4980. Mix & match up to 8 camera models to suit your budget & needs. Add lower resolution cameras to cover shorter distances, like inside a garage, and 5MP cameras to cover longer distances and zoom into details further away.
Add True Detect thermal motion sensing cameras that auto record and send you a push notification when they detect heat from moving objects near the cameras. Thermal cameras also enable Dropbox integration to upload still images to the cloud, so you have image evidence safely stored off-site in case your DVR gets stolen. See your home on your phone, live or playback, from anywhere with the HomeSafe View app, while the massive pre-installed hard drive can store months of footage with no ongoing fees ever.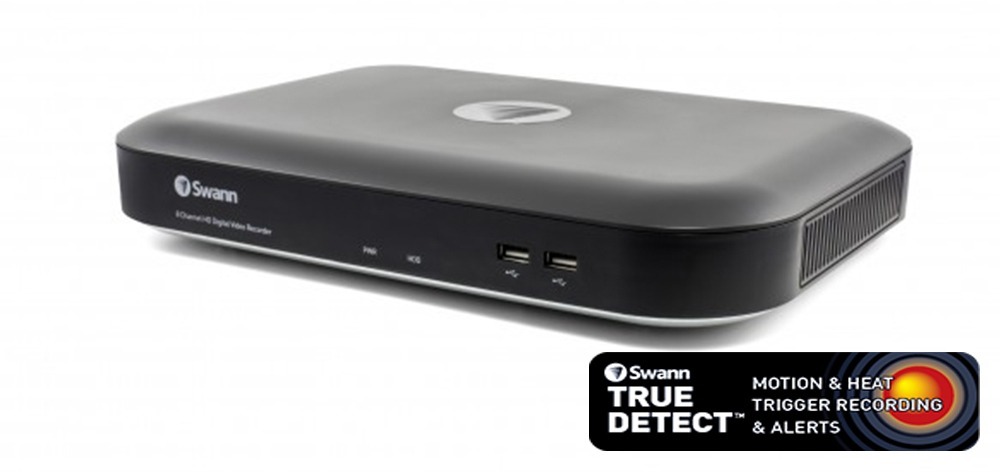 Product Features:
See the difference in 5MP Super High Definition
With 2.4x the resolution of 1080p Full HD, capturing crime has never been easier with 5MP Super HD, our highest resolution in the analog range. With remote viewing on your smartphone, you'll always have peace of mind with no ongoing fees.
Video Resolution Chart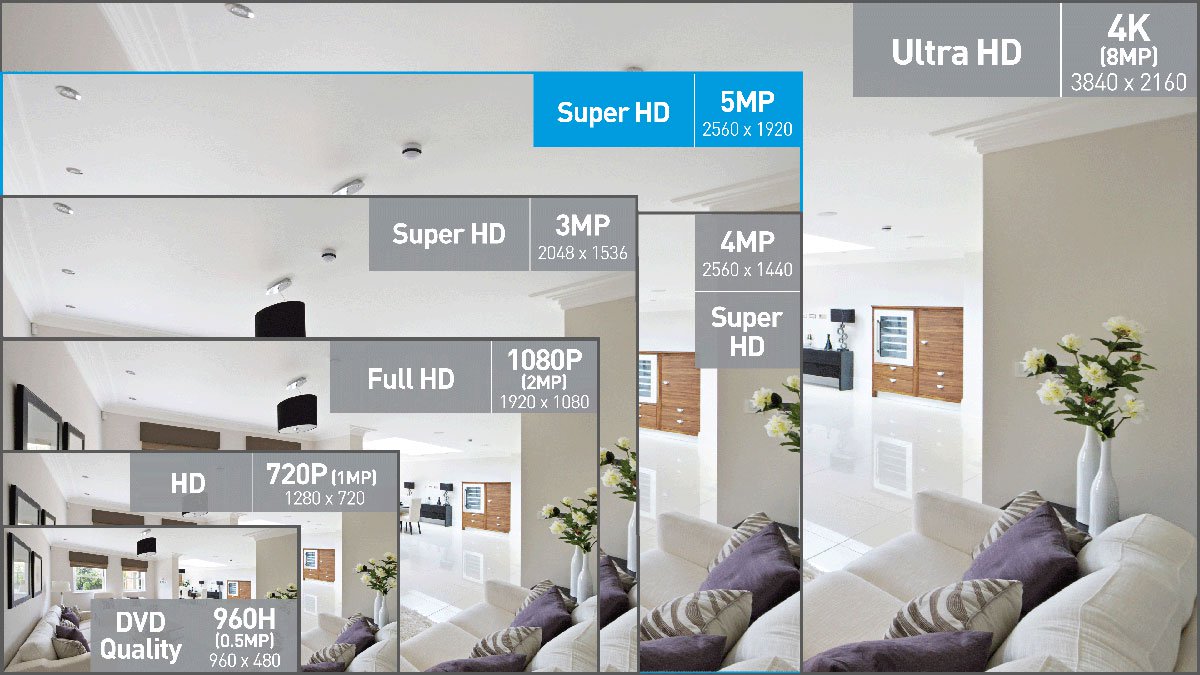 True Detect Thermal Sensing Motion Detection
The camera features a True Detect PIR sensor that triggers auto recording & push notifications when it senses heat, so it'll only record relevant events. Warm objects, like people & cars, are more relevant to security.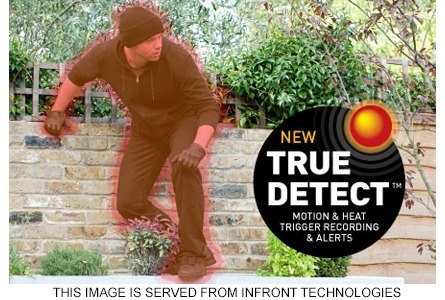 Accurate Security Push Notifications
You'll get push notifications when cameras detect movement from warm objects, such as people and cars allowing you to act immediately and potentially prevent any costly security incident.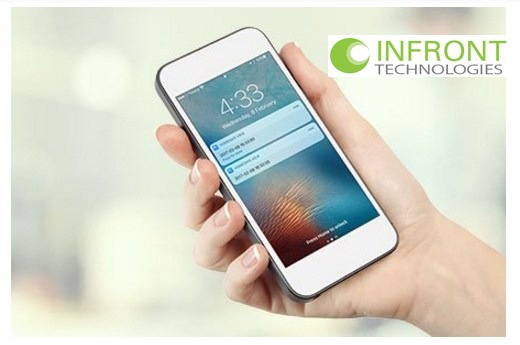 Mix and match cameras to suit your lifestyle and budget
This DVR can take up to 8 cameras. Go high and low on resolution, choosing from 720p (1MP), 1080p (2MP), 3MP and 5MP, including premium cameras with optical zoom. See the Compatible Products section further below.
Speak & You Can See
Now it's even easier to see what's happening. Use voice commands via the Google Assistant and Chromecast to stream video from your security cameras to your Smart TV. You can customize commands such as "Okay Google, show me the front door". Your security just got smarter.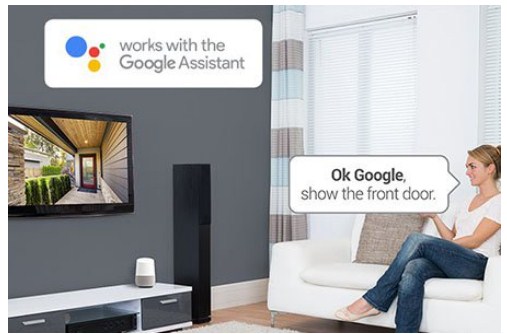 QuickShot Cloud saves snapshots to your Dropbox account
Set up the system to upload still images to your Dropbox account in the cloud. So even if your security system gets stolen, you'll have peace of mind knowing you can go online and access snapshots from your security cameras.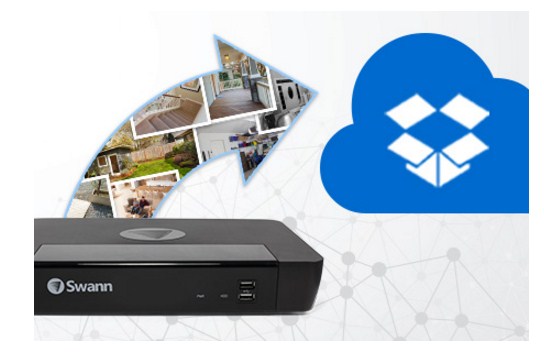 Instantly link your phone to the DVR
Once your DVR is connected to the internet, simply install the HomeSafe View app on your smartphone or tablet. Then scan the QR code sticker on the DVR to instantly start viewing the cameras on your device with Swann's peer-to-peer SwannLink technology.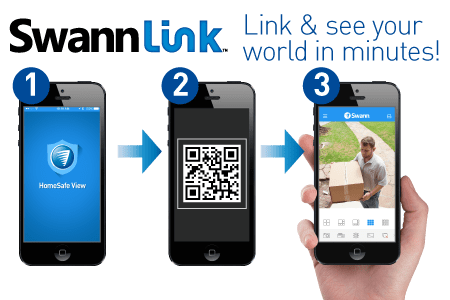 View your home on your phone
See the cameras live and playback recordings on your smartphone or tablet, no matter where you are in the world with the HomeSafe View app.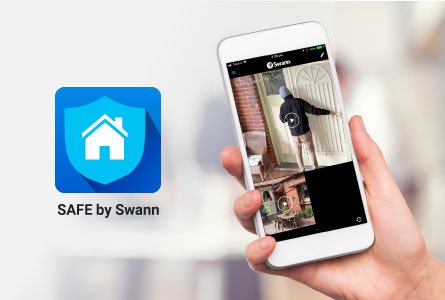 Massive surveillance grade hard drive
The massive 2TB HDD is designed especially for continuous surveillance recording. Store months of recordings and easily transfer videos to a USB stick or download via the network with no ongoing fees ever.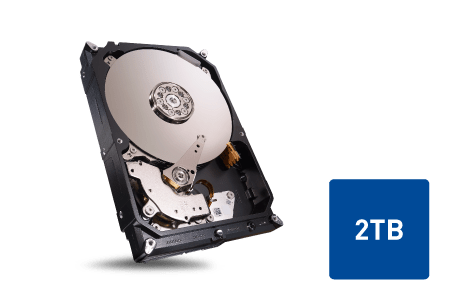 Super HD 5MP with HDMI cable
The kit also includes an HDMI cable for generating up to 5MP Super HD video to your flat screen TV including LCD, LED TVs or monitors. The DVR also has a VGA connection for viewing up to 1080p Full HD on your LCD monitor or compatible TV with VGA input. VGA cable not included.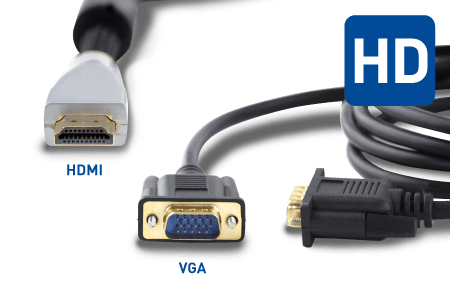 Smart Search finds movement in specific areas
Select a specific area of the image to search for movement within the recordings. For example, highlight the position of a stolen object and Smart Search will find motion around that area.

QuickShot lets you quickly review recordings from multiple cameras
Save time with QuickShot. Play a slideshow from all cameras' recordings on the same screen so that you can quickly identify an event of interest.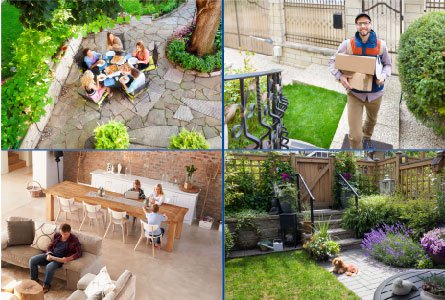 QuickReview plays back various recordings from a single camera
Easily locate a security incident from one camera by simultaneous playing footage from it from different times in a multiscreen layout within the same monitor.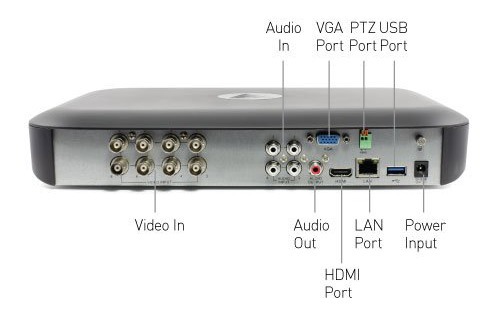 What's Included: 
All items listed are new in the original manufacturers packaging
★
DVR-4890 8 Channel DVR with 2TB Hard Drive
★
Ethernet Cable
★
HDMI Cable
★
Power Adapter & Splitter
★
Mouse
★
Mounting Screws & Plugs
★
Quick Start Guide
★
Theft Deterrent Stickers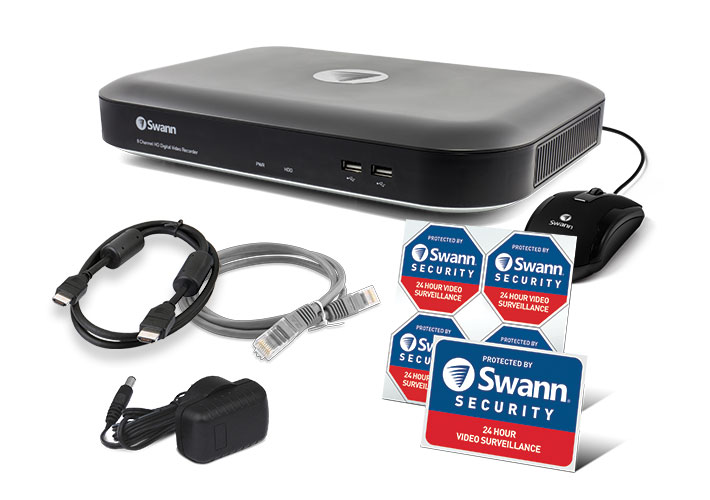 Connection Type

Wired

Brand

Swann - AU

Warranty

12 Month + 6 Month Bonus

Kit - Cameras included

NVR Only (no cameras)

Camera - Resolution

5MP - 1920P (2560x1920)
Swann is a global leader in security monitoring, consumer electronics and security-centric solutions for the smart homes and businesses of today and tomorrow.
Swann has always been a leader. From humble beginnings in the basement of David Swann's family home in Melbourne, Australia the business now has offices in the USA, Canada, Australia, UK, Hong Kong and China and a presence in over 40 countries on 6 continents. Swann pioneered the category of Do-it-Yourself security and is proud of the work it has done to make local communities safer. Today Swann is part of the Infinova Group, providing the business with enhanced manufacturing capabilities, cutting-edge research and development of security and networking solutions and access to an expanded international network.

Swann has once again been ranked the world's largest manufacturer of Do-it-Yourself Video Surveillance Equipment*. The business remains at the forefront of innovative surveillance and monitoring technology with recent new product developments including state-of-the-art professional-quality CCTV recording systems and cameras, such as 4K, 4 and 3 Megapixel digital HD, and the latest 1080p TVI and AHD analog HD systems. The Swann range is designed with a goal to make the latest security technology accessible, affordable and easy to use with do-it-yourself installation. All Swann products are backed by the brand promise of Lifetime Support with free 24/7 customer service. The company's products are available through some of the largest 'bricks and mortar' and online retailers in the world.
Swann has recently launched a security-centric connected home solution known as SwannOne. It's a single platform that allows users to control video surveillance, alarms, locks, lighting, sound alerts, temperature, energy management and more, all on their Smartphone or tablet using the free SwannOne app. Users can also adapt the system to their needs by customizing extra services including professional monitoring on-demand, cloud video recording, additional sound alerts and more. Once again, this positions Swann at the cutting-edge and is another example of the company's commitment to deliver advanced security made easy.