Swann SWPRO-735 - Optimum Day & Night Security Camera with clear 700TV Lines
SWPRO-735CAM-AU
Good Quality 700TVLines. CMOS Image Sensor for Sharp Night Vision and reasonable colour. Up to 25 Metres (Realistically it is 15metres) Night Vision 59° Viewing Angle. Plugs into your TV or your DVR. Solid Design in Aluminium with a Rating of IP67 - can withstand direct extreme rain. Suits all Swann and other brands of DVR Recorders where the input on the back is either BNC (Push and Turn) or RCA Connectors
Key Features:
Crystal clear resolution 720TVL cameras with powerful night vision to 25m for indoor/outdoor use
Sturdy aluminum construction suits indoor & outdoor applications in any weather
Deter thieves, safeguard loved ones, protect your property & fight back against crime
Plug into your DVR for recording or your TV's yellow video-in-socket for immediate surveillance
Perfect for home or business surveillance including doorways, yards, parking lots, hallways, storage areas & more
How Do I Connect The Camera?
Place the camera in a position that a potential security threat will find it difficult to avoid detection. A strategy which is often effective is to monitor entrances and exits - after all, a security threat has to get in somewhere.
Install the camera where it's out of reach to prevent tampering. For example, under the eaves of a roof or high up in protected corners of a wall would be good options. The higher the camera is mounted, the harder it will be for vandals to interfere with it. Typically, the best view is obtained approximately 2 Metres to 3 Metres high, looking slightly downwards. Try to aim the camera at an area which is evenly lit, as objects or people in shadows near brightly lit objects are very hard to see.
While the camera is sealed, robust and able to handle the weather, long-term exposure to direct sunlight (particularly UV) and moisture will eventually cause a degradation in performance, so if it's going to be installed outdoors, make sure it's in a sheltered spot. Also, when mounting the camera, ensure that it's not in a location where water is likely to pool or build up over time.
The camera's night vision will give we'll expose images if the area is dark. However, if there's a bright point source in the camera's view (a street light, car headlights or similar) then it might not engage night vision mode.


Connecting To The DVR
1. Connect the camera's Power and Video cable to the extension cable's DC and BNC plugs.
2. Connect the BNC extension cable to a video input channel on the back of the DVR.
3. Connect the DC extension cable to the power adapter's DC cable and then plug the power adapter into an electrical outlet.


Positioning the Cable
When running your cable, try to avoid bending it at sharp angles.
Don't put your cable near live electrical wiring. AC electricity generates radio "noise"
which can interfere with the signal from your camera.

More Information
This is a great replacement camera for the PRO530, 535, 642, 150 or any fixed lens camera and will plug into any of the Swann or other brand DVR's. With good night vision and a solid build this general purpose camera will suit.
What's Included:
All items listed are new in original manufacturers packaging
*

PRO-735 Camera

*

Cable Managed Bracket

*

BNC Cable 18m

*

BNC to RCA Adapter

*

Mounting Screws & Plugs

*

Operating Instructions

*

Theft Deterrent Stickers x 4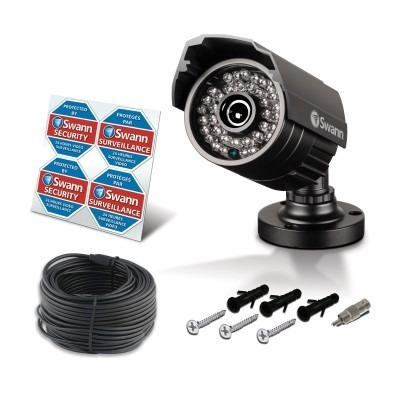 *Note:

Product contents may change without notice.