Swann 16 Channel 1080p 3.0 Megapixel Network Video Recorder Home - 2TB Pre-Installed HDD with Smartphone Viewing
SWNVR-167300H
16 Channel 1080p 4.0 Megapixel Network Video Recorder with pre-installed 2TB HDD / SwannLink 'Peer to Peer' easy network connection software / VGA & HDMI Output / Web and Smartphone remote viewing / Transfer to external storage via USB or network.
Key Features:
Professional surveillance system gives you peace of mind by being able to see the detail you need from longer distances including license plates, faces, clothing colors & more, all in super HD

Connecting NVR:
Connecting up the NVR and Cameras is very easy. With a step by step instruction manual in the box, the guide will show you which cable goes where. The connection map included has detailed images of various connectors – you can use these to assist with your NVR and Camera connectivity in the shortest time possible.
VGA – Connect to your TV or Computer monitor with the VGA port
HDMI – Connect to your HDTV or Computer monitor with an HDMI port
LAN – Connect to your home router/network and connect to the internet
USB – For connecting your USB mouse to control the NVR and using a USB Memory Stick to backup footage
PoE Camera Ports – Power over Ethernet.
These ports connect cameras to the recorder and send power and video up the one cable
Power Socket – This is where you connect the recorder to the power point using the NVR's 240V cable
Power LED – Indicates the NVR is powered up
HDD LED – The hard drive is functioning and actively writing data
LAN LED – Network connection is active
POE – POE is 'Power over Ethernet' - it sends POWER and VIDEO in the one cable
(Cat5e or Cat6) – This system supports both cable types, however, if rewiring your house always use cat6

There are 5 Steps To Install Your SWNVK-167300:


1) Connect the recorder to a Monitor or TV - you can connect this recorder virtually any sized monitor
It is recommended you purchase a monitor with an HDMI socket for best performance
2) Connect your cameras
Plug the supplied Cat5e cable into any socket of the 4 input sockets on the back of the NVR. There will be 4 spare sockets for you to upgrade your system later by adding more cameras
3) Connect to your Network

Plug the Ethernet cable from your router into the back of the NVR
4) Connect the mouse

5) Connect your Power Cable and turn on
What's Included:
All items listed are new in original manufacturers packaging
*
NVR16-7300 with 2TB Hard Drive (installed)
*
HDMI Cable (2m) - connect NVR to your TV
*
Power Cable - 240V - IEC (Power Supply Built into NVR)
*
USB Mouse
*
1 x 2Mtr Cat5e Cable to join NVR to router
*

Mounting Screws & Plugs

*

Operating Instructions

*

Theft Deterrent Stickers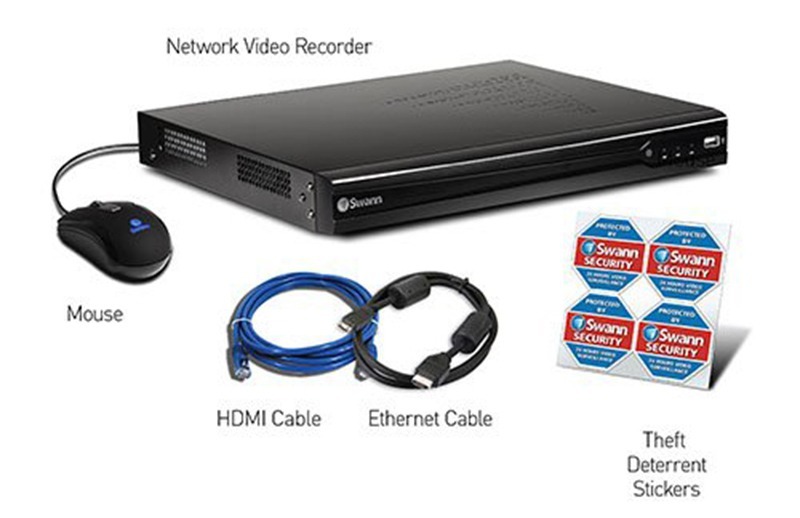 *Note:

Product contents may change without notice.