Swann SW351-WSA Home Series Shock Sensor Window Alarm
Detects forced entry through a window / Loud siren 110dB+ / Strong deterrence against intruders / Easy to install / Indoor use only / High or low sensitivity selection.
With the Swann Window Alarm protecting your home, apartment or small business has never been so easy and affordable. Simply mount the Window alarm on your window and when armed the sensor will detect any attempts of forced entry. Installation is a breeze! Just apply the double-sided adhesive to the alarm and then stick the alarm to the window and you're done!
The alarm is battery powered, 100% wireless and has 3 settings (off, high sensitivity and low sensitivity). When armed, any forced entry to the window will activate the Swann Window Alarm to emit an ear piercing 110db+ siren, keeping you and your family safe.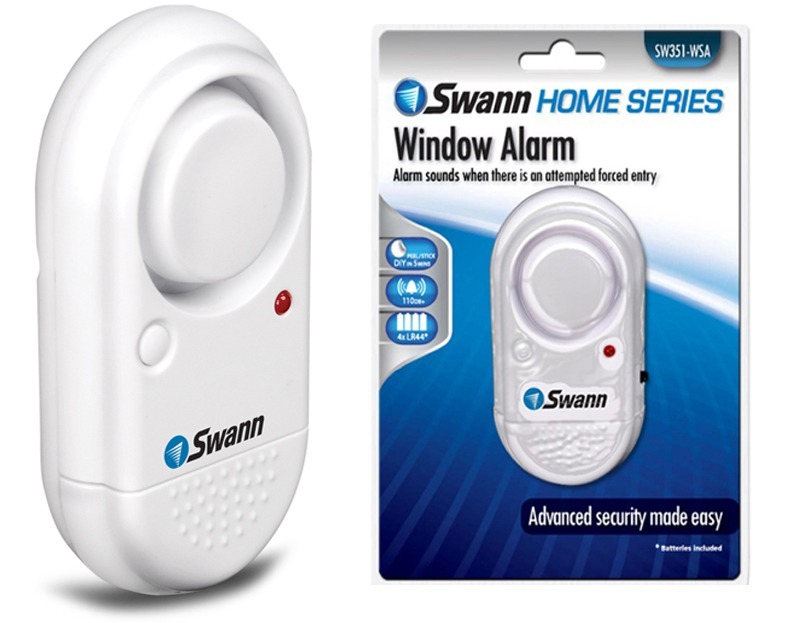 Choose the Swann Window Alarm to protect your loved ones, home or business. It really is advanced security made easy!
The alarm unit contains a small shock sensor. Being struck, shaken or dropped will trigger this sensor, which in turn triggers the alarm.
You can control the state of the alarm and it's sensitivity by using the Mode Selection Switch on the side of the alarm. It's labeled "OFF / HI / LO".
OFF: The alarm is disabled. It will not sound under any circumstances.
HI: The alarm is armed, and in it's most sensitive state, and will go off if gently tapped. This is recommended for fragile glass or a window which may be forced open more easily than it could be broken.
LO: The alarm is armed but at low sensitivity. The alarm will sound only if the window is struck with considerable force.
Mounting:
Simply stick the sensor to the window of your choice using the double-sided tape provided. If you need to re-mount or move the sensor, you can use any double- sided adhesive tape or pads, which are available at any good hardware store.
Where you mount the sensor will affect how sensitive it is. Mounting near the edge of a window will de-sensitize the alarm, and the window will have to be struck with more force to set off the alarm. Conversely, mounting the alarm in the center of the window will increase the sensitivity, as this is the part of the glass which will move the most if a shock hits the window.
To check the current state of the batteries, press the battery test button, located on the lower left of the siren. If the red LED lights up, then the batteries have a sufficient charge to operate the alarm. If the LED does not light up or is dull, replace the batteries. The battery test button will work only whilst the alarm is armed. Whilst the switch is set to OFF, the LED will not light up at all.
Technical Specifications:
Power Requirements 4 x LR44 Button Cell Batteries (6V DC)
Siren Duration 30s (approx.)
Siren Volume > 110dB
Sensitivity Levels 2 (High / Low)