More info
Futuro Video Intercom Kit with Black Screen with Surface Mount CZ4 Camera
FUT-202B-KIT
Available in both Black and White, these units have a very high quality of finish and are sure to make a sleek and stylish addition your home or business decor. The latest kit by Futuro, this upmarket Intercom Kit is designed to fit in with the modern designed homes with the reliability to last for year after year.
This kit gives you the ability to see who's at the door before you open it. It also includes 2-way audio so you talk to whoever is at the door without having to take the risk of opening the door to a stranger. You can install up to 2 monitors with the standard screens and up to 4 with the addition of the CPU4 intercom networking device.
The screens can also be used as an audio intercom between stations so you easily contact somebody in another part of the house. This bundle also includes the CZ4 surface mount door station. This surface mounted camera and doorbell unit is designed to be mounted directly on your wall or door frame which makes it easy to install as you do not need to alter the mounting spot in any way which also means you have more options when choosing where to mount the unit.
The modern brushed Aluminium finish on this unit means it will make a stylish addition to your home or businesses main entrance. It has the latest in WDR (Wide Dynamic Range) technology and extra bright white LED's to give you bright clear images any time of day or night. Simple to install using standard Cat5E or Cat6 - cable is not included with these units so please search for our range of Cat cable.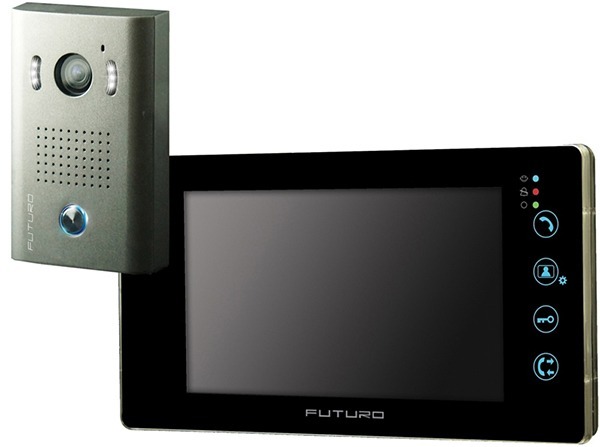 Product Features:
The camera includes bright White LED's to give you a clear colour picture day or night.
The latest CCD image sensor technology is used make sure you always get a sharp clear image.
Camera dimension: 99(W) x 148(H) x 28(D)mm
What's in the Box?
1 x Futuro Black 7" Monitor

1 x CZ4 Surface Mount camera unit

1 x Power Supply

1 x Short 15cm Connecting Cable
The CZ4AB Angled mounting bracket is also available for this camera unit on the below link.