More info
Swann AHD Day Night 10x Optical Zoom PTZ Camera 1MP
SWPRO-A852PTZ
PTZ Cameras are excellent for zooming around the area and getting a 360° view of any area. They DO NOT replace fixed cameras and you should consider your situation before investing in just a PTZ to satisfy your CCTV requirements.
Many customers try to cover their property with 1 PTZ camera instead of using a combination of PTZ and fixed cameras. PTZ cameras can be set to patrol an area, you can set points and then sequence each point with the idea of viewing/scanning the entire property. Unfortunately, the time away from important points like a front door can leave these areas unrecorded and you will not be able to identify person/s undertaking an offence.
A combination of fixed and PTZ cameras is important to your overall CCTV strategy.
This camera can be controlled from the DVR directly or via the mobile phone app, it is impressive when you show your friends how you can move around and zoom into different areas around your property, however when you are notified from your alarm system that there is an intrusion, you will be very thankful you have the ability to zoom around and see what is really going on. Highly recommend this camera as an addition to your existing kit.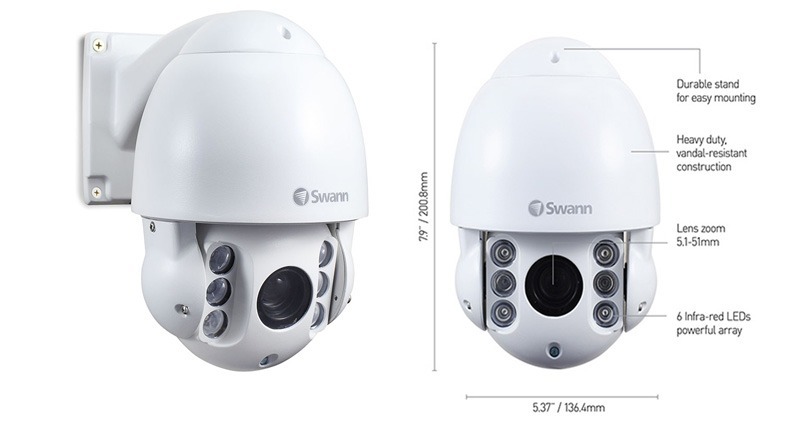 Key Features:
Awesome 100ft/30m night vision with powerful "array" LEDs so you can see what's happening 24/7
State-of-the-art technology with 10x zoom high-resolution 720p HD video image sensor & smart programming
Ready to go with flexible mounting options to fix to your wall or ceiling. Installation accessories & cable included
No more 'blind-spots' as the Dome Camera rotates 360 degrees
Amazing zoom capabilities with 10x (5.1–51mm) optical zoom ensures you can see fine details such as people's faces & license plates
Focus on the key locations with multiple preset viewing points
Smartphone viewing* & controls when combined with a Swann 4400/4600 series DVR* & free SwannView Link app
Cut the cost of crime with this professional quality dome surveillance camera, at an affordable price with no ongoing fees


What's Included:
All items listed are new in original manufacturers packaging
*

PRO-A852™ PTZ Camera

*

BNC Cable 60ft / 18m

*

Wall & Ceiling Bracket Mounts

*

Power Adapter

*

Mounting Screws & Plugs

*

Theft Deterrent Stickers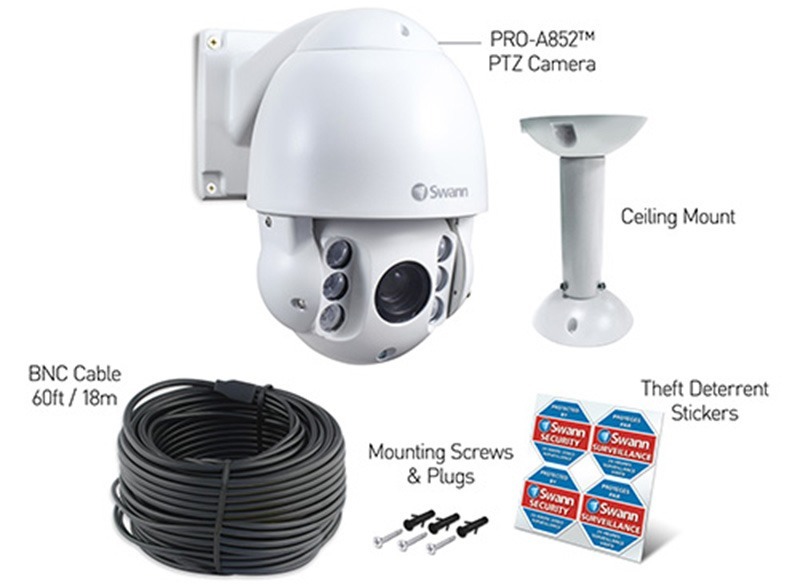 *Note:

Product contents may change without notice.