Fujitsu Fujitsu4AAA Batteries 4xAAA Alkaline

A$4.50
Price includes GST.
4-Pack AAA 950mAh (Min. 900mAh)
Rechargeable up to 500 times
Low self-discharge - Retains 85% after 1 year of storage
Suitable for low temperature as -20 Degree Celsius
Fujitsu Fujitsu4AAA Batteries 4xAAA Alkaline
BATT-Fujitsu4AAA
Enjoy power-shooting when using to power your camera and other energy hungry devices. Eco-friendly and extremely reliable, perfect for everyday devices that often need to be recharged, such as wireless game controllers, LED flashlights, remote controllers etc...
Conventional rechargeable batteries lose their energy daily, but not FUJITSU high charge retention batteries. They're ready to use, even after 1 year storage. Simple Pack of 4 Fujitsu Alkaline AAA Batteries suits many applications - available as a single unit or Wholesale in Bulk.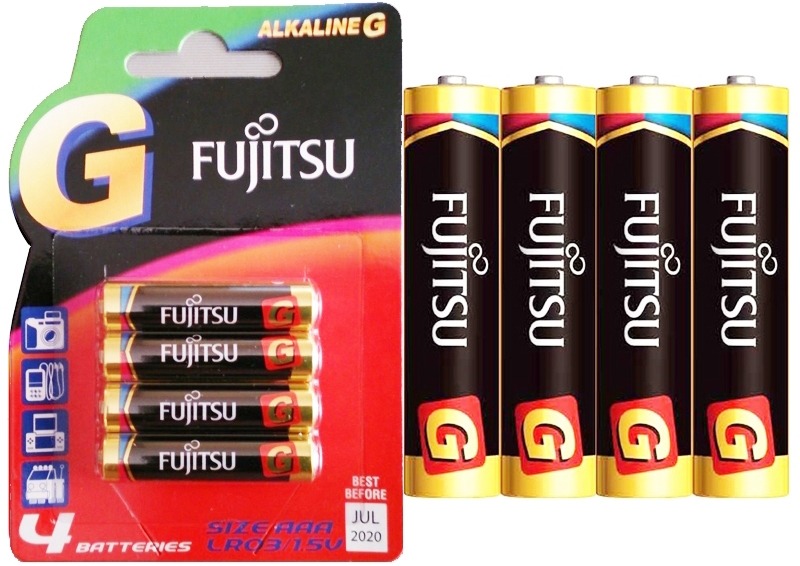 Product Specification: 
Model No :
 

LR03G/BP4

Selling Unit :
4PC
Description :

Fujitsu LR03G AAA size alkaline battery.

Replaces LR03, 24A, 4003, 4903, 824, AM4, E92, EN92, GP24A, KAAA, MN2400

Application :

Radio, Wireless, Torch, Toy, Game, Instrument, Electronic

Chemistry :

Alkaline

Voltage :

1.5V

Brand :

Fujitsu

Size :

AAA

Width :

10.5mm

Height :

44.5mm

Weight :

11g