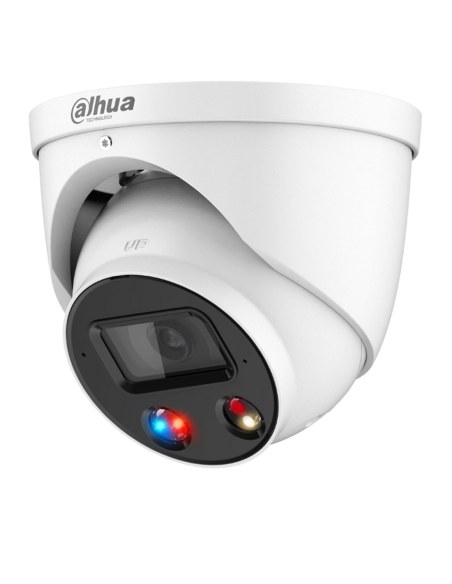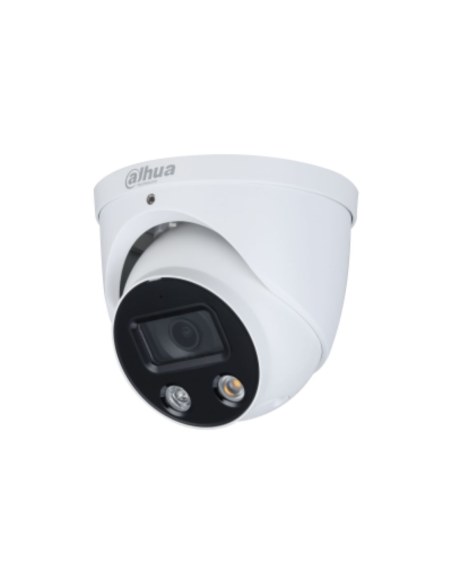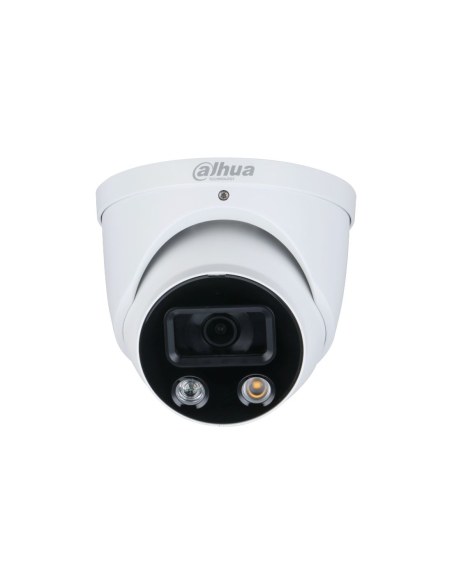 Dahua 8MP TIOC 2.0 Smart Dual Illumination Active Deterrence Eyeball WizSense Security Camera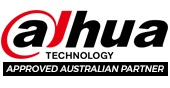 DH-IPC-HDW3849HP-AS-PV-0280B-S3
In Stock - Ready to Ship
8 MP 1/2.8'' CMOS image sensor, low luminance, and high definition image.
Outputs max. 8 MP (3840x2160)@25/30 fps.
H.265 codec, high compression rate, ultra-low bit rate.
Built-in warm light and IR LED; the max.
IR illumination distance is 30m and warm light distance is 30 m.
ROI, SMART H.264+/H.265+, AI H.264/H.265, flexible coding, applicable to various bandwidth and storage environments.
Rotation mode, WDR, 3D NR, HLC, BLC, digital watermarking, applicable to various monitoring scenes.
Intelligent monitoring
Abnormality detection
Alarm: 1 in, 1 out; audio
12 VDC/PoE power supply.
IP67 protection.
Sound and light alarm (red and blue lights).
SMD 3.0.
One press arming/disarming through alarm input.
Choose from Various Payment Types.
Paypal, Credit Card, ZIP Money, Afterpay, Bitcoin & Direct Deposit
Shipping we're fast!
99% of our orders leave us the same day of ordering. Express Shipping options available at checkout.
Fast Reponses to Warranty & Support
We answer your questions fast. Great Australian Company based out of Sydney for over 20 years.
Dahua 8 MP Smart Dual Illumination Active Deterrence Fixed-focal Eyeball WizSense Network Camera
DH-IPC-HDW3849HP-AS-PV-0280B-S3
Now with smart Dual Illuminators. The TIOC 1.0 camera can monitor at night with infrared and when motion is detected activate its auxiliary illuminator light for full Colour recording.
The Dahua DH-IPC-HDW3849HP-AS-PV-0280B3 is an 8 Megapixel (4K), 3 in one camera, otherwise known as the TiOC. The 3 standout features are AI Wizsense, an AI chip with a deep learning algorithm, full-colour technology for colour recording at night and active deterrence features utilising a built-in siren, red and blue strobe lights, and a microphone and loudspeaker, also providing 2-way audio. The camera is a powerhouse of features providing a unique and highly effective surveillance solution. Active deterrence can be used to its full potential or disarmed to suit the security requirement.
WizSense Series - Engineered to provide smart, simple and affordable security. WizSense series cameras support an independent AI chip with a deep learning algorithm to provide a more intelligent and simple security solution focused on human and vehicle detection. This helps filter out false alerts triggered by bugs, changes in light, leaves, trees and animals.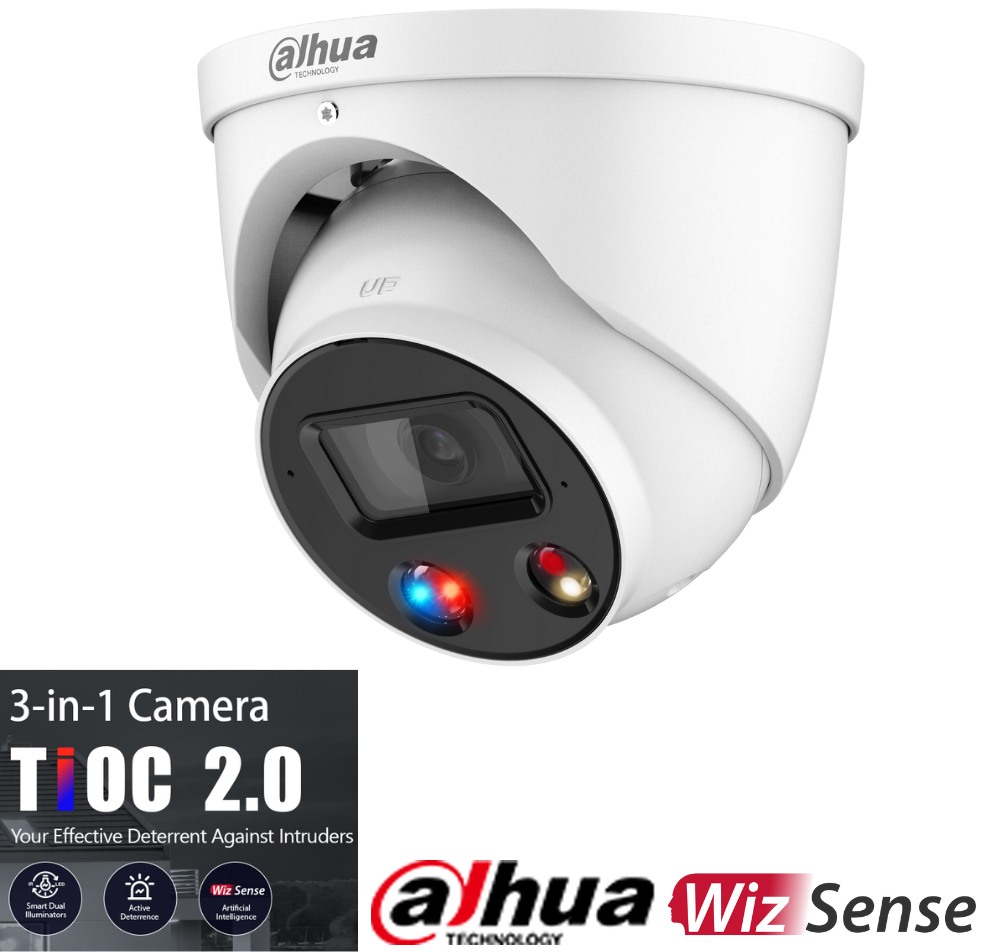 Three-in-One Camera (TiOC) integrates 24/7 full-colour, active deterrence and artificial intelligence into one smart and innovative solution, greatly saving time and financial costs. TiOC can accurately identify potential risks and effectively warn off intruders protecting life and property.
Full Colour uses a warm LED light that enables the camera to capture 24/7 vivid colour video even in the dark. Significantly increases the probability of collecting valid human, vehicle, and event evidence through brighter monitoring. Also works with AI functions to further enhance the probability and accuracy of target recognition and feature extraction with 98% AI accuracy at night.
Active Deterrence camera actively warns off intruders with built-in flashing lights, siren and audible commands. The lights can be configured to steady or flash. The camera is equipped with pre-recorded audible commands with the option to add your own content.
Features:
Records up to 8 Megapixel (4K Ultra HD) resolution  (3840 × 2160)@25/30 fps
Features up to H.265+ high-efficiency video encoding and Triple-Streaming
NEW!! Smart Motion Detection Plus 3.0 (SMD+), greatly reduces false alarms in motion detection by only detecting humans and vehicles. Now with even Less false alarms and longer detection distance
NEW!! Now with Built-in warm light and IR LED; the max. IR illumination distance is 30 m and warm light distance is 30 m
Triggers real-time alerts to a smart device through the iOS/Android app
Supports tripwire and intrusion detection IVS Intelligent Video Surveillance
Full-Colour Capability: Built-in warm light illuminator with max distance: 30m for colour recording at night
Built-in siren and blue/red flashing strobe lights for active deterrence. Triggered by smart detection with real-time alerts to a smart device
One-tap disarming of active deterrence features
Starlight colour recording down to 0.004 lux
Built-in DUAL mics and loudspeaker for 2 way audio
Supports pre-recorded audible commands with the option to add your own customised content
Alarm: 1 in, 1 out; audio: 1 in, 1 out
Supports PoE "Power-Over-Ethernet" installation
Supports MicroSD Card Storage up to 256 Gigabytes
Resilient "Weather-Proof" Ingress Protection Rating (IP67)
3 Years Back-to-Base Manufacturer Warranty!
Functions
Siren and Light Active Deterrence
Dahua siren and light active deterrence network camera support the light alarm and voice alarm when perimeter event occurs, to realize the deterrence and effective intervention. The camera is built-in multiple voices for selection and supports customized voice importing.
Smart Dual Illuminators
Dahua Smart Dual Illuminators technology adopts a smart algorithm to detect targets. Usually, the IR illuminator is on at night; when the target appears in the monitoring area, the warm light is on, and the camera records the full-color video and information of key events. That is, the camera links snapshot and video with full-color images. When the target is out of the monitoring area, the warm light is off and the IR illuminator is on, which reduces light pollution efficiently.
SMD
With an intelligent algorithm, Dahua Smart Motion Detection technology can categorize the targets that trigger motion detection and filter the motion detection alarm triggered by non-concerned targets to realize effective and accurate alarms.
One-tap Disarming
Dahua One-tap Disarming function, which is convenient and easy for operation, is the switch for event linkage. Customers can close and recover event linkage through a mobile app, which meets multi-scenarios needs.
Cyber Security
Dahua network cameras employ a series of security technologies, including security authentication and authorization, access control protocols, trusted protection, encrypted transmission and encrypted storage. These technologies improve the camera's defense against external cyber threats and prevent malicious programs from compromising the device.
Protection (IP67, wide voltage)
IP67: The camera passes a series of strict tests on dust and soak. It has a dust-proof function, and the enclosure can work normally after soaking in 1 m deep water for 30 minutes.
Wide voltage: The camera allows ±30% input voltage tolerance (wide voltage range), and it is widely applied to an outdoor environment with unstable voltage.
Tech Specs:
Camera

Image Sensor

1/2.8" CMOS

Max. Resolution

3840 (H) × 2160 (V)

ROM

128 MB

RAM

512 MB

Scanning System

Progressive

Electronic Shutter Speed

Auto/Manual 1/3 s–1/100,000 s

Min. Illumination

0.004 lux@F1.0 (Color, 30 IRE)
0.0004 lux@F1.0 (B/W, 30 IRE)
0 lux (illuminator on)

S/N Ratio

﹥ 56 dB

Illumination Distance

30 m (IR)
30 m (warm light)

Illuminator On/Off Control

Auto; manual

Illuminator Number

1 (IR LED)
1 (warm light)

Pan/Tilt/Rotation Range

Pan: 0°–360°
Tilt: 0°–78°
Rotation: 0°–360°

Lens

Lens Type

Fixed-focal

Mount Type

M12

Focal Length

2.8 mm; 3.6 mm

Field of View

2.8 mm: Horizontal: 106°× Vertical: 55°× Diagonal: 125°
3.6 mm: Horizontal: 85°× Vertical: 45°× Diagonal: 100°

Iris Type

Fixed

Close Focus Distance

2.8 mm: 2.0 m
3.6 mm: 2.8 m

DORI Distance

Lens

Detect

Observe

Recognize

Identify

2.8 mm

91.0 m 

36.4 m

18.2 m

9.1 m

3.6 mm

107.6 m

43.0 m

21.5 m

10.8 m

Professional, intelligent

IVS (Perimeter Protection)

Tripwire; intrusion (Support the classification and accurate detection of vehicle and human)

SMD 3.0

Less false alarm, longer detection distance

Intelligent Search

Work together with Smart NVR to perform a refined and intelligent search, event extraction, and merging to event videos.

Video

Video Compression

H.265; H.264; H.264H; H.264B; MJPEG (Only supported by the sub stream)

Smart Codec

Smart H.265+; Smart H.264+

AI Coding

AI H.265; AI H.264

Video Frame Rate

Mainstream: 3840 × 2160@(1 fps–30 fps)
Substream: 704 × 576@(1 fps–25 fps)/704 × 480@(1 fps–30 fps)
Third stream: 1920 × 1080@(1 fps–30 fps)
*The values above are the max. frame rates of each stream; for multiple streams, the values will be subjected to the total encoding capacity.

Stream Capability

3 streams

Resolution

8M (3840 × 2160); 6M (3072 × 2048); 5M (3072 × 1728/2592 × 1944); 4M (2688 × 1520); 3M (2048 × 1536/2304 × 1296); 1080p (1920 × 1080); 1.3M (1280 × 960); 720p (1280 × 720); D1 (704 × 576/704 × 480); VGA (640 × 480); CIF (352 × 288/352 × 240)

Bit Rate Control

CBR/VBR

Video Bit Rate

H.264: 3 kbps–20480 kbps
H.265: 3 kbps–20480 kbps

Day/Night

Auto (ICR)/Color/B/W

BLC

Yes

HLC

Yes

WDR

120 dB

Scene Self-adaptation

Yes

White Balance

Auto; natural; street lamp; outdoor; manual; regional custom

Gain Control

Auto; manual

Noise Reduction

3D NR

Motion Detection

OFF/ON (4 areas)

Region of Interest (RoI)

Yes (4 areas)

Smart Illumination

Yes

Defog

Yes

Image Rotation

0°/90°/180°/270° (Support 90°/270° with 2688 × 1520 resolution and lower)

Mirror

Yes

Privacy Masking

8 areas

Audio

Built-in MIC

Yes

Audio Compression

PCM; G.711a; G.711Mu; G.726; G.723

Alarm

Alarm Event

No SD card; SD card full; SD card error; network disconnection; IP conflict; illegal access; motion detection; video tampering; tripwire; intrusion; scene changing; audio detection; voltage detection; external alarm; SMD; security exception

Network

Network

RJ-45 (10/100 Base-T)

SDK and API

Yes

Cyber Security

Video encryption; firmware encryption; configuration encryption; Digest; WSSE; account lockout; security logs; IP/MAC filtering; generation and importing of X.509 certification; syslog; HTTPS; 802.1x; trusted boot; trusted execution; trusted upgrade

Protocol

IPv4; IPv6; HTTP; TCP; UDP; ARP; RTP ; RTSP; RTCP; RTMP; SMTP; FTP; SFTP; DHCP; DNS; DDNS; QoS; UPnP; NTP; Multicast; ICMP; IGMP; NFS; SAMBA; PPPoE; SNMP

Interoperability

ONVIF (Profile S/Profile G/Profile T); CGI; P2P; Milestone

User/Host

20 (Total bandwidth: 72 M)

Storage

FTP; SFTP; Micro SD card (Support max. 256 G); NAS

Browser

IE: IE8/9/11
Chrome
Firefox

Management Software

Smart PSS; DSS; DMSS

Mobile Phone

iOS; Android

Certification

Certification

CE-LVD: EN 62368-1;

CE-EMC: Electromagnetic Compatibility Directive 2014/30/EU;

FCC: 47 CFR FCC Part 15, Subpart B;

UL/CUL:UL62368-1 & CAN/CSA C22.2 No. 62368-1-14

Port

Audio Input

1 channel (RCA port)

Audio Output

1 channel (RCA port)

Alarm Input

1 channel in: 5 mA 3V–5 VDC

Alarm Output

1 channel out: 300 mA 12 VDC

Power

Power Supply

12 VDC/PoE (802.3af)

Power Consumption

Basic: 2.9 W (12 VDC); 5.0 W (PoE)
Max. (H.265+main stream/IR intensity+warm light on): 7.8 W (12 VDC) 9.6 W (PoE)

Environment

Operating Conditions

–40 °C to +60 °C (–40 °F to +140 °F)/Less than 95% RH

Storage Conditions

–40 °C to +60 °C (–40 °F to +140 °F)

Protection Grade

IP67

Structure

Casing

Metal

Dimensions

110.9 mm × Φ122.0 mm (4.4" × Φ4.8")

Net Weight

745 g (163.1 lb)

Gross Weight

915 g (200.6 lb)
Features

Push Notifications

Connection Type

Wired - Ethernet IP Cat5e/6 NVR System

Warranty

3 Year Warranty

Camera - Resolution

8MP 4KUHD (3840x2160)

Camera Style

Dahua CCTV Security Cameras
Dahua is committed to providing its highest quality solutions and products with the latest technologies to enable end users to perform their business successfully. In 2001, Dahua became the first company in China to launch an 8-channel real-time embedded digital video recorder. Since then, the company has continued to invest in building strong R&D capabilities for new technology and innovation.
Dahua has invested about 10% of its annual sales revenue in R&D since 2014. The company has four research institutes – Advanced Technology Institute, Big Data Institute, Chip Institute and Video Cloud Institute -- and more than 6,000 R&D engineers and technical staff working on cutting-edge technologies in AI, IoT, Cloud services, video, cyber security, and software reliability and other technologies. Dahua has registered over 800 patents as of 2016.
Since 2014, Dahua has ranked 2nd in the global video surveillance equipment market according to an IHS report, and in 2017 Dahua ranked 3rd in the a&s international "Security 50".

Dahua's core video surveillance product line, including network cameras, NVRs, and HD over coax, can be applied in many sectors, including banking & finance, government, industrial, retail, sports & leisure, transportation, and energy.
| | |
| --- | --- |
| | Featuring customized technical innovations and end-to-end services, our intelligent traffic solutions and other solutions earn customer trust by best solving their problems. Numerous major projects have been installed with Dahua solutions and products - the 2016 Rio Olympics, 2016 Hangzhou G20 Summit, Oman Avenues Shopping Mall, LAN Airlines in Peru, APEC in China, as well as many others. |