Dahua Integrated Solar Monitoring System - KIT/PFM364L-D1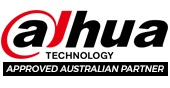 In Stock - Ships from Sydney
Integrated die casting casing
Aluminum alloy frame
Monocrystalline solar panel
Lithium battery pack
Remote monitoring with APP
Maximum Power Point Tracking(MPPT) charging controller
RS485 communication function
Electronic protection
1/2.9" 2Megapixel progressive CMOS
H.265&H.264 dual-stream encoding
25/[email protected](1920×1080)
Day/Night(ICR), 3DNR, AWB, AGC, BLC
Multiple network monitoring: Web viewer, CMS(DSS/PSS) &DMSS
Micro SD card slot, up to 256GB
3.6mm,6mm fixed lens
Max. IR LEDs Length 40m
4G supported
IP67
Choose from Various Payment Types.
Paypal, Credit Card, ZIP Money, Afterpay, Bitcoin & Direct Deposit
Shipping we're fast!
99% of our orders leave us the same day of ordering. Express Shipping options available at checkout.
Fast Reponses to Warranty & Support
We answer your questions fast. Great Australian Company based out of Sydney for over 20 years.
Dahua Integrated Solar Monitoring System
KIT/PFM364L-D1/IPC-HFW4230MP-4G-AS-I2/PFB121W
Integrated solar monitoring system, all in one decision, using 4G to transfer monitoring data and solar to power, which is easy/quick to install and can save wiring to the greatest extent, includes three parts: 4G network camera, integrated solar power system and camera's mounting bracket, which is more convenient for sale, order and transportation.
The integrated solar power system, integrating solar panels, lithium batteries, maximum power point tracking (MPPT) charging controller and mounting brackets, provides stable power supply for the front-end data acquisition system 4G network camera through high conversion charging a device. It is compact, portable, easy to install, disassemble and maintain compared with the conventional system.
The 4G supported IR bullet camera delivers 2MP resolution with a 3.6mm or 6mm fixed lens. The camera can be connected to mobile internet as long as you have a SIM card, provides an excellent choice for a variety of small to mid-size applications such as off-grid systems, farms, forests, borders, etc. Wall mount bracket of the camera, support multi-angle flexible adjustment.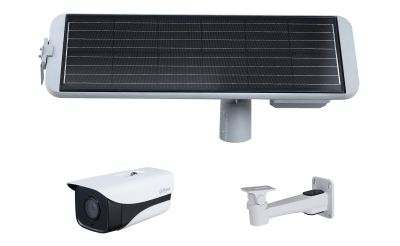 Features:
Solar Power System
· Integrated die-casting casing
· Aluminum alloy frame
· Monocrystalline solar panel
· Lithium battery pack
· Remote monitoring with APP
· Maximum Power Point Tracking(MPPT) charging controller
· RS485 communication function
· Electronic protection
4G Network Camera
· 1/2.9" 2Megapixel progressive CMOS
· H.265&H.264 dual-stream encoding
· 25/[email protected](1920×1080)
· Day/Night(ICR), 3DNR, AWB, AGC, BLC
· Multiple network monitoring: Web viewer, CMS(DSS/PSS) &DMSS
· Micro SD card slot, up to 256GB
· 3.6mm,6mm fixed lens
· Max. IR LEDs Length 40m
· 4G supp
Functions:
Integrated Aluminum die casting casing
Compact structure integrated with solar panel, lithium battery pack and charging controller to improve the appearance, installation, and maintenance of the System.
Monocrystalline solar panel
Adopts monocrystalline solar panel to greatly improve optical absorbance efficiency and power generation performance with dusky light.
Lithium battery
Iron phosphate lithium battery has a smaller size and longer cycle life compared with a conventional lithium battery.
Remote monitoring with APP
With Dahua cameras, it supports real-time remote monitoring of the system operation status and alarm prompts of battery with APP.
Maximum Power Point Tracking charging controller (MPPT)
MPPT controller helps significantly improve the energy utilization efficiency of the System, and raise the charging efficiency by 10%–30% compared with conventional PWM controller.
RS-485 port
RS-485 port and standard Modbus protocol, meeting communication requirements in various scenarios.
Electronic protection
Comprehensive electronic protection: Current limiting, short circuit, and reverse current protection of solar panel; reverse connection, overvoltage, over-discharge, and over-temperature protection of lithium battery; overload and short circuit protection of load.
4G
The camera can be connected to Mobile Internet as long as you have a SIM card, then you can place it anywhere and no need to worry about the wiring hassles.
Intelligent Video analysis (IVS)
Dahua camera is equipped with a built-in intelligent analytic algorithm based on the video, which can realize intelligent functions like Tripwire and Intrusion, to quickly and accurately respond to monitoring events in a specific area, It can enhance monitoring efficiency. In addition, the camera supports intelligent tamper detection, which is to generate warning messages via detecting dramatic scene change and to guarantee effective video surveillance.
Kit includes:
1 x Solar Panel 60W with built-in lithium Iron Battery
1 x 2MP 4G IR Bullet
1 x Wall Mount bracket
Specifications: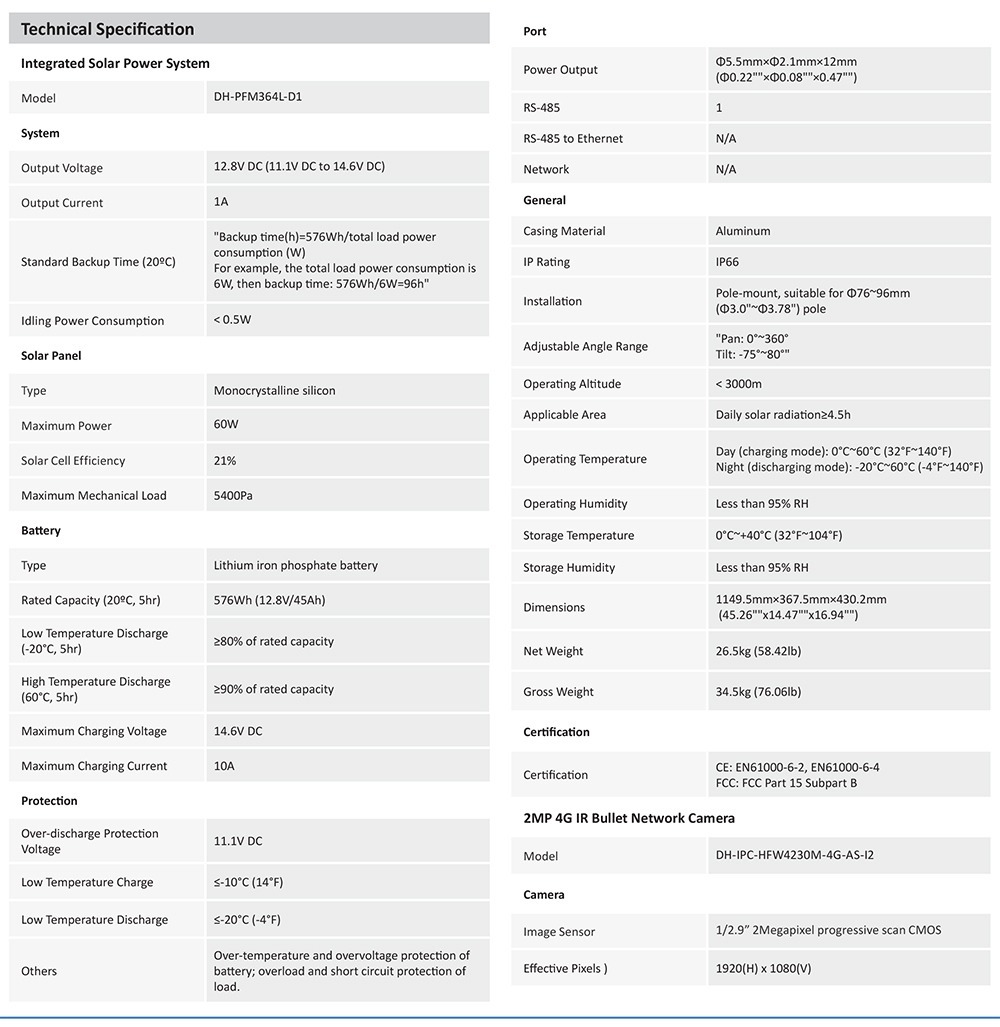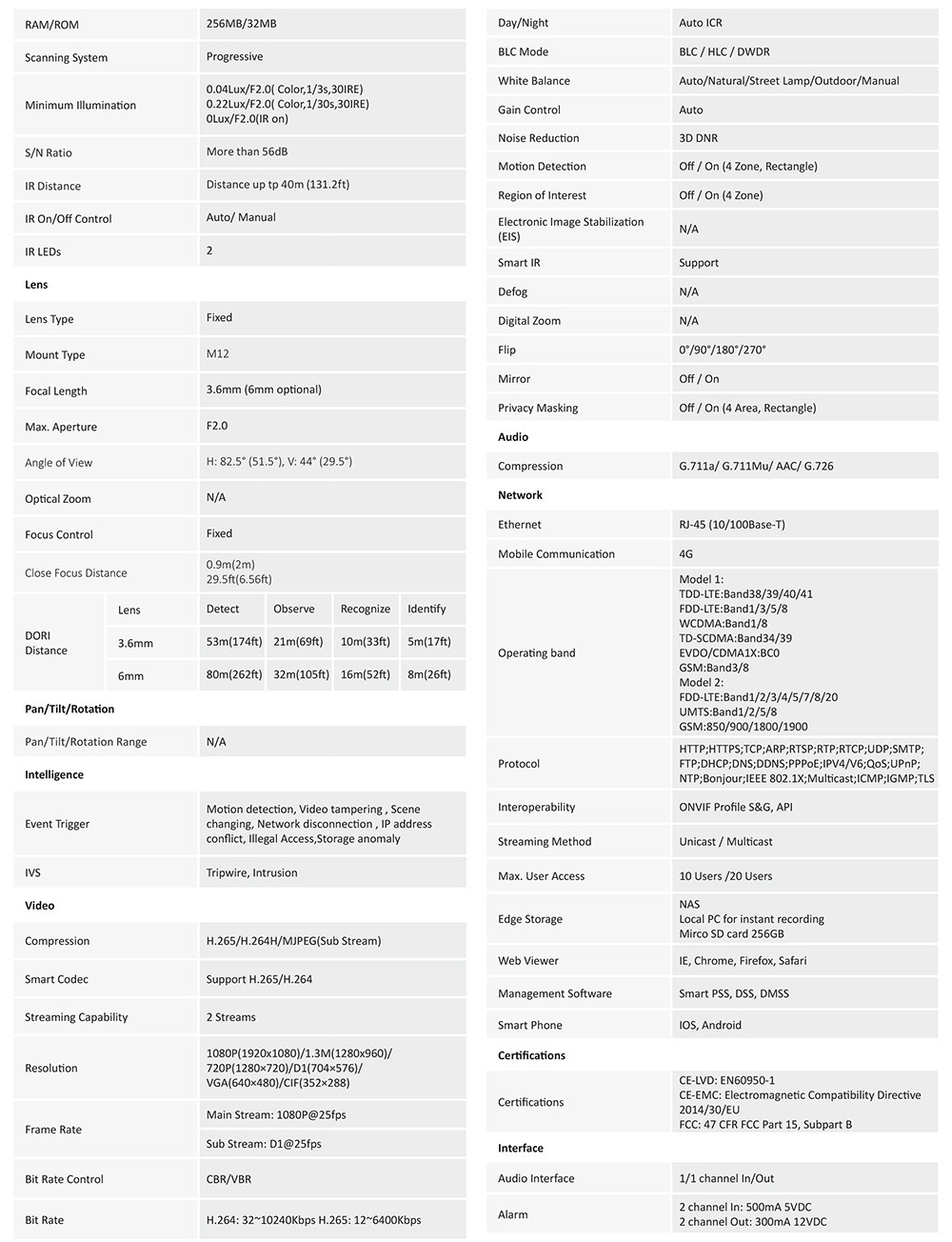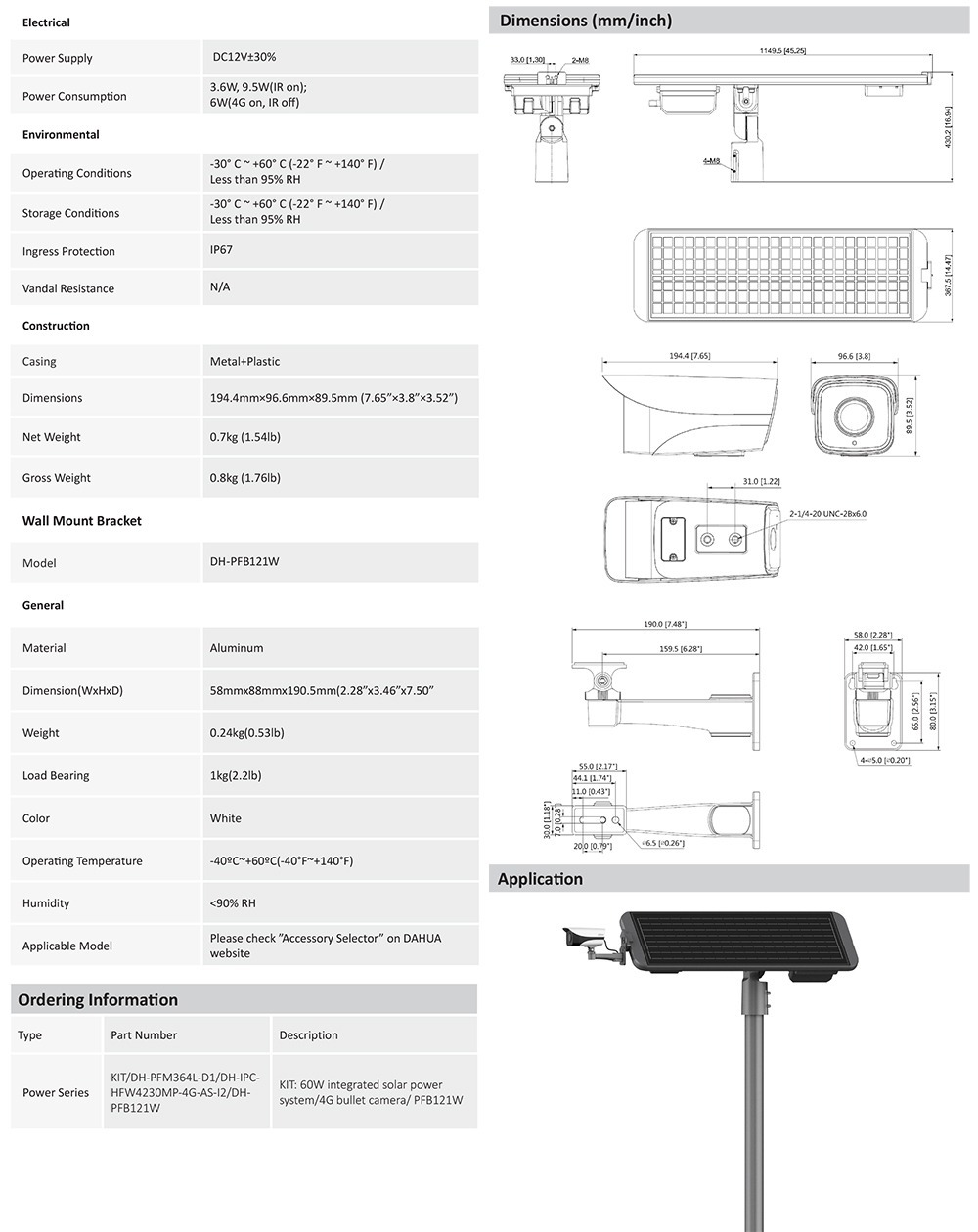 Brand

Dahua

Warranty

3 Years Warranty
Dahua is committed to providing its highest quality solutions and products with the latest technologies to enable end users to perform their business successfully. In 2001, Dahua became the first company in China to launch an 8-channel real-time embedded digital video recorder. Since then, the company has continued to invest in building strong R&D capabilities for new technology and innovation.
Dahua has invested about 10% of its annual sales revenue in R&D since 2014. The company has four research institutes – Advanced Technology Institute, Big Data Institute, Chip Institute and Video Cloud Institute -- and more than 6,000 R&D engineers and technical staff working on cutting-edge technologies in AI, IoT, Cloud services, video, cyber security, and software reliability and other technologies. Dahua has registered over 800 patents as of 2016.
Since 2014, Dahua has ranked 2nd in the global video surveillance equipment market according to an IHS report, and in 2017 Dahua ranked 3rd in the a&s international "Security 50".

Dahua's core video surveillance product line, including network cameras, NVRs, and HD over coax, can be applied in many sectors, including banking & finance, government, industrial, retail, sports & leisure, transportation, and energy.
| | |
| --- | --- |
| | Featuring customized technical innovations and end-to-end services, our intelligent traffic solutions and other solutions earn customer trust by best solving their problems. Numerous major projects have been installed with Dahua solutions and products - the 2016 Rio Olympics, 2016 Hangzhou G20 Summit, Oman Avenues Shopping Mall, LAN Airlines in Peru, APEC in China, as well as many others. |