Swann SWADS-ALARMK Driveway Alert Kit - Motion Detection & Long Range Wireless Transmission

A$48.50
Price includes GST.
DIY easy installation
Wireless set-up
Motion detection
Battery operated
Expandable
Easy DIY Alert System to keep you, your loved ones & visitors safe
Swann Driveway Alert Kit - Motion Detection & Long Distance Wireless Transmission
SWADS-ALARMK
The SWADS-ALARMK is a wireless, motion-detection and expandable DIY alert system. With an easy, out-of-the-box connectivity, with easy mounting and pairing for wireless connectivity. Place the PIR alert motion sensor where you need security near an entrance, doorway, driveway, and more.
With a wireless long-range of up to 60 meters (from each sensor back to the receiver), and a choice between 3 volume levels, and silent mode with blue signal lights. The PIR alert sensor detects motion from up to 12 meters away and has a sleek, weatherproof design for driveway and outdoor monitoring. The kit is expandable by adding more sensors from the DIY alert range for a customised Swann system.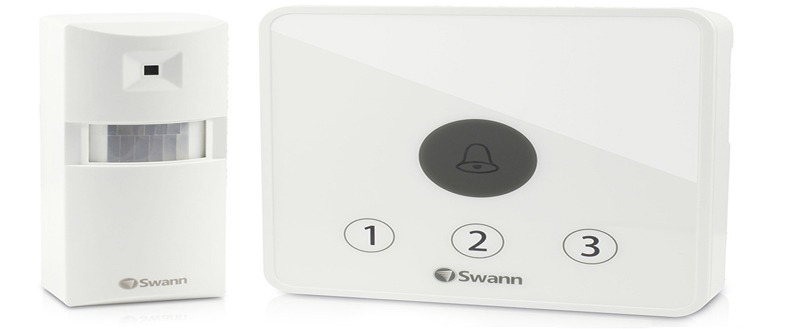 Key Features:
Easy to use do-it-yourself wireless alert kit for home or business provides peace of mind without breaking the bank
Connect in minutes with easy mounting, pairing & convenient wireless operation
(uses 3 x AA batteries for Receiver & 3 x AAA batteries for Sensor)
Position the PIR Alert Motion Sensor where you need protection near entrances, doorways, driveways, garages, shops, restaurants, cafes, reception areas, lobbies or anywhere activity occurs
The Receiver unit emits an audible alarm & lights up when the Alert Sensor detects movement
Choose between 3 volume levels for the alarm on the Receiver Unit or use silent mode with blue lights flashing on the channel linked to the triggered Sensor
Enjoy the convenience of wireless with a long range up to 60m from each Sensor to Receiver
The PIR Alert Sensor detects motion up to 12m away with a weatherproof design for monitoring driveways & other outdoor locations, with the ability
to adjust the position using the rotating mounting brackets
Expand by adding more Sensors+ from the Swann DIY Alert Range for a customized alert system for your home or business
What's Included:
All items listed are new in original manufacturers packaging
*
Receiver Unit with Alarm
*
Alert Motion Sensor
*
Mounting Bracket with
*
Adjustable Angle Pivot Joint
*
Mounting Screws & Wall Plugs
*
Quick Start Guide
*
Theft Deterrent Stickers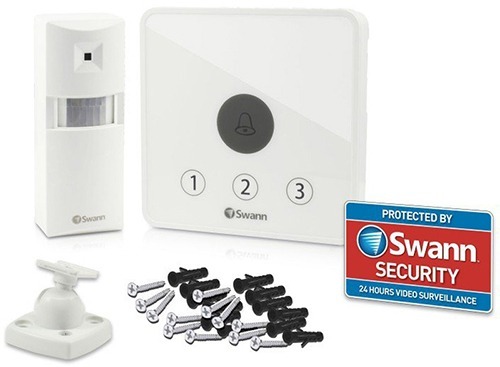 *Note: Product contents may change without notice.