Swann SWADS-GARSEN Garage Parking Sensor

A$28.50
Price includes GST.
Great little device helping to park in your Garage.
Indicates with a Red, Orange, Green Light how close you are
30, 60 or 90cm Distances
Battery Operated 4 x AA (not included)
Ultrasonic Sensor
Swann Ultrasonic Garage Safety Parking Distance Sensor
SWADS-GARSEN
Park your car in your garage without damaging it with the SWADS-GARSEN Garage Parking Sensor from Swann. This parking sensor features a three-color indicator light to notify you of your proximity. The light will turn green once the car is in the detection zone, orange when the car is within the slowdown zone, and red when the car is in the stop zone.
The main unit is ideally mounted level with the front bumper of the car, while the indicator light should be mounted at eye level for easy visibility. This is a wireless, battery-operated unit with a battery low indicator.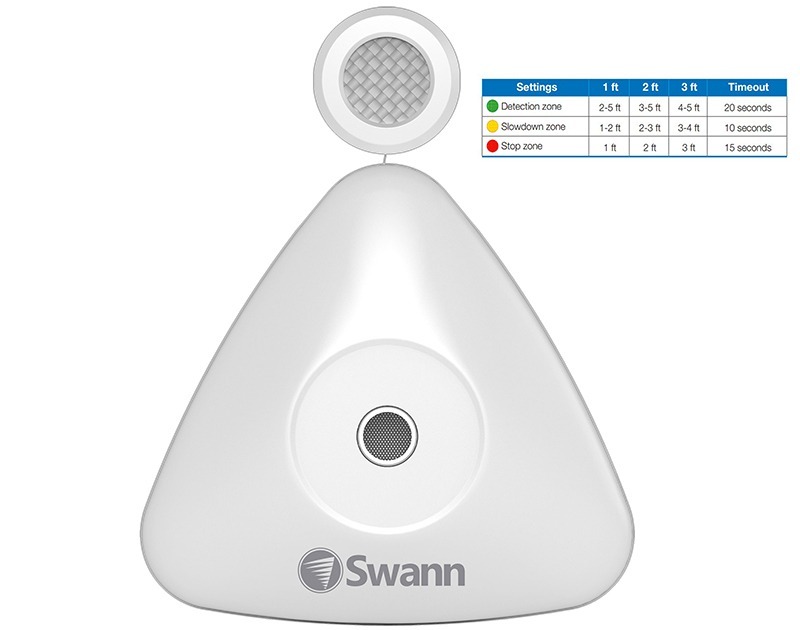 Key Features:
Indicates how close your car is to a garage wall & other objects to prevent damage to your vehicle & property
Set the safety distance to 1, 2, or 3ft / 30, 60 or 90cm away from wall & indicator lights will change color depending on how close you are to that distance
Green Light = Car is in detection zone. Orange Light = Car is within the slow down zone distance limit. Red Light = Car is at safety limit in stop zone
Easy to use & set up - offers parking assistance for vehicles which may not be fitted with car parking assistance systems
The main unit is attached to a wall at fender/bumper level & attached indicator light is set to windscreen level for visibility
Completely wireless using 4 x AA batteries (not included) & indicator light flashes red when batteries need replacing
Setting The Stopping Distance
The Garage Parking Sensor has 3 selectable stopping distances - 1,2 and 3 feet. To set the stopping distance, slide the switch on the rear of the Sensor to the desired stopping distance.

Drive your car slowly into the garage. As your car approaches the Sensor, the Display Light illuminates green, then yellow and finally red when you should completely stop your car.
Important: The Garage Parking Sensor is designed to aid in slow-speed parking only. Always follow safe driving procedures when parking your car. 

Note: Measurements shown above are approximate. Actual stopping distances may vary due to environmental factors (wind, air temperature, etc). As such, it's important to check your response time and leave sufficient clearance to avoid any collision. When parking for the first time, find out the ideal stopping distance for your vehicle and adjust the stopping distance setting or mounting location, if necessary.
What's Included: 
All items listed are new in original manufacturers packaging
*
Ultrasonic Garage Parking Sensor with Indicator Light
*
Mounting Screws and Wall Plugs
*
Double Sided Tape for Mounting
*
Instructions - Quick Start Guide
*Note:

 

Product contents may change without notice.