Panasonic RP-TCM190E-K Ergofit Plus Extra Bass Earphones With Mic

A$21.94
Price includes GST.
Deep Bass Fit Construction
Special Long Sound Port for Extra Bass
1 Year Manufacture Warranty
Metallic Speaker housing for extra rigidity
Durable Microphone and Talk ON/OFF Switch
High Power 10mm large Neodymium Magnet
Frequency Response: 6 Hz - 24 kHz
Smartphone compatible
Panasonic Ergofit Plus Extra Bass Earphones With Mic
A long sound port delivers powerful bass sound and superb noise isolation with a comfortable and secure fit. Compatible with iPhone, BlackBerry and Android devices. You can easily listen to music from an existing smartphone and also enjoy the switch for call function to use the mic for smartphone conversations.
A long, ergonomically developed sound port with a long earpiece firmly holds the tragus (the projection at the front of the ear canal), to provide a comfortable fit while delivering rich, direct sound and superb noise isolation. The earpiece of the RP-TCM190 securely fits the ear interior and its airtight design boosts bass sound. The sound port is positioned near the eardrum, to clearly relay rich bass sound.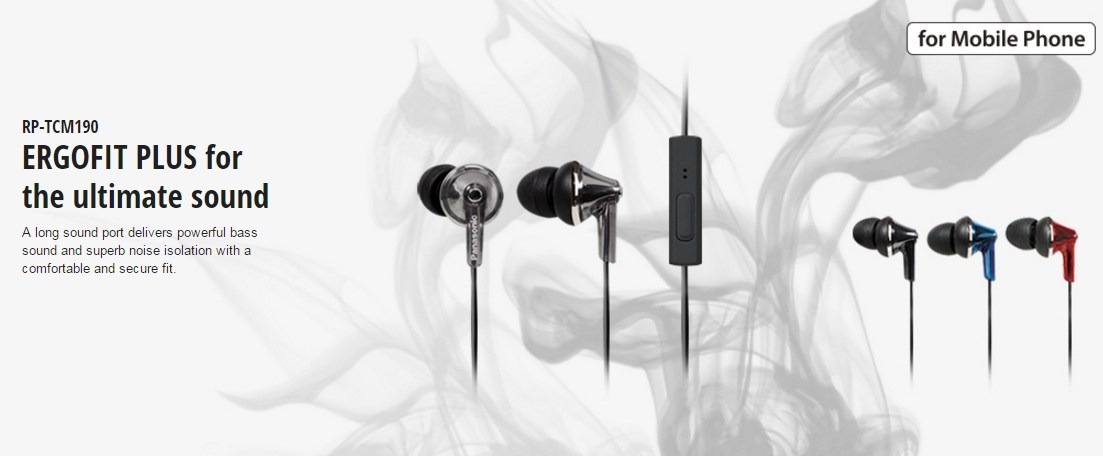 Specifications:
| | |
| --- | --- |
| Brand | Panasonic |
| Connector Plating | Ctia Plug |
| Cord Length (m) | 1.2 |
| Driver Unit (mm) | 10 |
| Frequency Response (hz - hz) | 6 - 24000 |
| Headphone Design | In-ear Canal Type |
| Headphone Jack | 3.5 mm |
| Headphone Type | In-ear |
| Impedence | 16 |
| Magnet Type | Neodymium |
| Maximum Input (mw) | 200 |
| Sensitivity (Db/mw) | 98 |
| Warranty Period | 1 Year |
| Wired/wireless | Wired |
H.Phones - Earpiece Design

Ear-Bud ( in-ear )

H.Phones - Fit Design

In-ear

H.Phones - Connectivity

Wired

H.Phones - Colour

Black and Silver

H.Phone - Built in Microphone

Yes