Panasonic RP-HC200 Noise Cancelling Around-Ear Stereo Headphones

A$74.80
Price includes GST.
Up to 81% Noise Reduction
Adjustable Headband
Thick Around-Ear Cushions
Y-Cable with Slider
Standard 3.5mm Plug
Panasonic RP-HC200 Noise Canceling Around-Ear Stereo Headphones
The RP-HC200 Noise Canceling Around-Ear Stereo Headphones (Black) from Panasonic provide high-quality audio and noise cancellation in a comfortable and lightweight design. The headphones have large drivers that deliver crisp, clear audio with a wide frequency response. The adjustable headband provides a snug fit, while the thick around-ear cushions offer lasting comfort and natural noise isolation.
Active noise cancellation technology is built into the headphones, reducing ambient noise by as much as 81% (14dB). In addition to blocking sound so you can focus on your music, the noise cancellation technology also allows you to listen at lower volume levels, potentially reducing the risk of hearing damage. The noise canceling circuit can be turned on and off as needed, and unlike other noise canceling headphones, the RP-HC200 suffers no loss of audio quality in either mode.
The cable has a traditional Y-style design, complete with a slider for convenient adjustments. The standard 3.5mm stereo mini plug is compatible with a variety of MP3 players, CD players, laptops, tablets, and more. Whether you're listening at home, at work, on an airplane, or on a bus, the RP-HC200 is a perfect choice.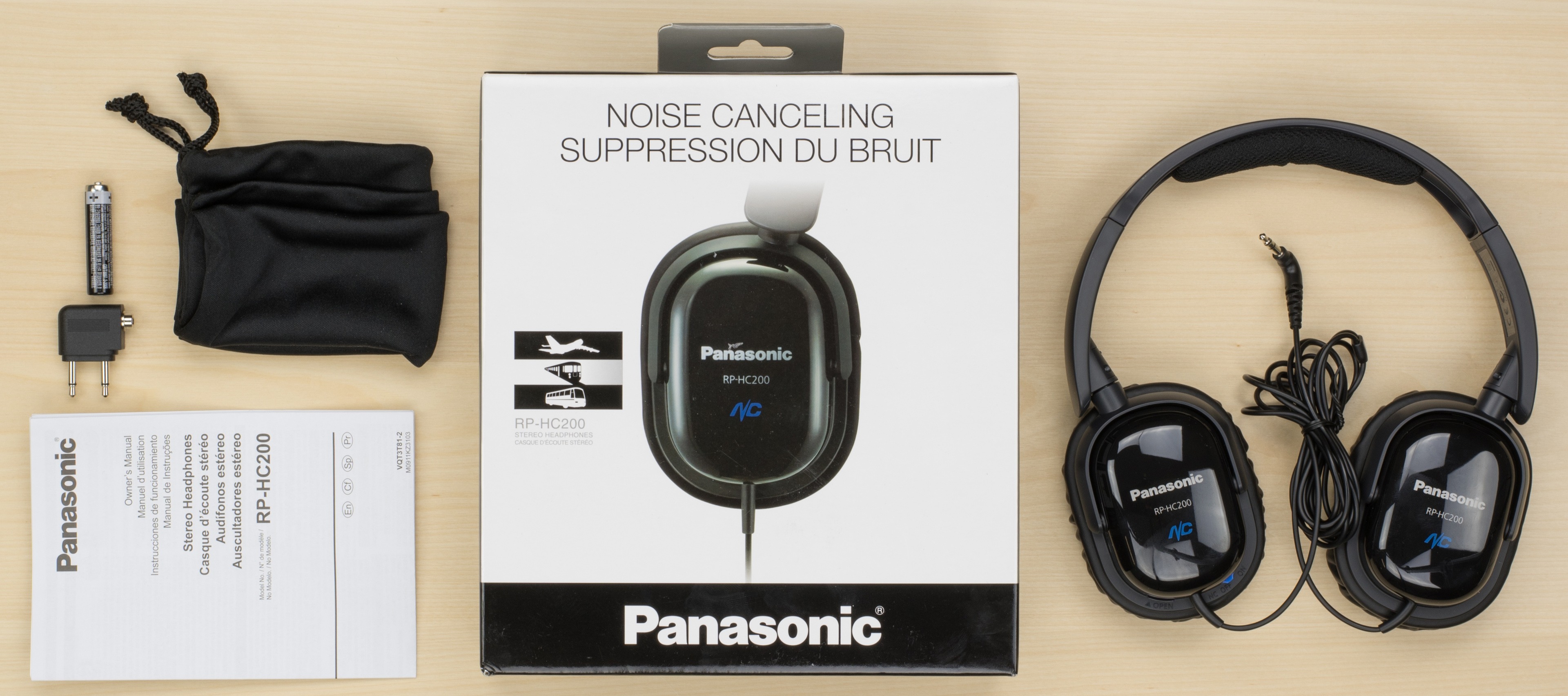 Ideal for use at home, at work, or while traveling
The large 35mm drivers deliver crisp, clear audio with a wide frequency response
The adjustable headband provides a snug fit, while the thick around-ear cushions offer lasting comfort and natural noise isolation
Active noise cancellation technology is built into the headphones, reducing ambient noise by as much as 81% (14dB)
In addition to blocking sound so you can focus on your music, the noise cancellation technology also allows you to listen at lower volume levels, potentially reducing the risk of hearing damage
The noise canceling circuit can be turned on and off as needed, and unlike other noise canceling headphones, the RP-HC200 suffers no loss of audio quality in either mode
The cable has a traditional Y-style design, complete with a slider for convenient adjustments
The standard 3.5mm stereo mini plug is compatible with a variety of MP3 players, CD players, laptops, tablets, and more
Specification:
| | |
| --- | --- |
| Type | Around-ear, noise cancelling |
| Frequency Range | 10 Hz - 21 kHz |
| Impedance | 330 ohms @ 1 kHz (NC on) |
| Sensitivity | 91 dB/mW |
| Maximum Input Power | 1000 mW |
| Connectors | Nickel-plated 3.5mm stereo mini plug |
| Cable Length | 4.95' (1.5 m) |
| Weight | 5.54 oz (157 g) (without cable) |
H.Phones - Earpiece Design

Ear-Cup ( Over the ear)

H.Phones - Fit Design

Headband (Over the head)

H.Phones - Connectivity

Wired

H.Phones - Colour

Black

H.Phone - Built in Microphone

No

H.Phones - Included In Box

Carry Bag/Case, Plane Jack Adaptor