Securview 11W 50M Infrared Illuminator with a 60 Degree Beam Angle

A$119.00
Price includes GST.
Powerful 11W Infrared Illuminator
50 Metre Illumination Range
Mid range 60° Beam Angle
Auto Day/Night Switch
2.1mm DC Socket
IP66 rated for indoor and outdoor use
Requires 12V @ 1-1.5AMP PSU
Accessories - Related Products
Securview 11W 50M Infrared Illuminator with a 60 Degree Beam Angle
RC-VSIR11W60D
This Infrared illuminator is compatible with any security cameras that use Infrared light to be able to see at night. Traditionally cameras only have the infrared light provided by the few LED's on the front of the camera to help it see at night. This infrared illuminator act's like an Infrared floodlight and floods the area with a large amount of infrared light that is invisible to the human eye but the cameras will be able to use the extra light to make a huge improvement to the quality of the night vision already available.
This VSIR11W60D is IP66 rated with tempered glass panel and aluminum die-casting housing, suitable for indoor or outdoor use. This illuminator has a good mid-range beam with a good mix of width and range which make it suitable for broad range of situations like covering a larger backyard or driveway as well as covering areas such as loading docks and storage areas at commercial premises.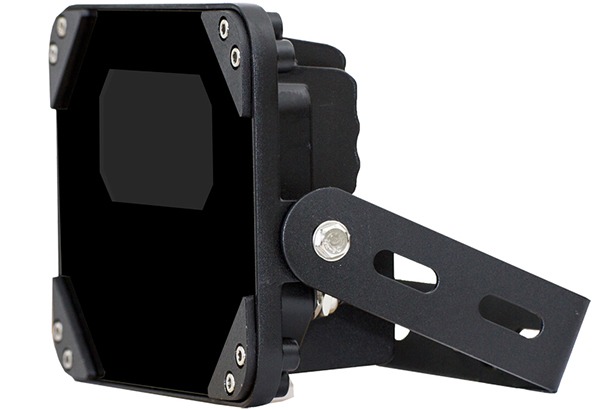 Product Features:
High-performance IR illuminator for all lighting conditions
12x High power IR LEDs with 50m IR distance
IP66 Rated with tempered glass panel and aluminium die-cast housing
Day to night auto-switching
Suitable for indoor or outdoor use
This product requires a 12V @ 1-1.5A power supply to run (Sold Separately)
Warranty

3 Year Warranty

Camera - IP Rating - Ingress Protection - Weather Resistance

IP66 - Weather Proof - Strong Rain

Camera - Power Supply Included?

No Power Supply included

`Product Weight

1.2KG

Camera - Power Supply

12V DC

Camera - Power Consumption

11W

IR Beam Angle

60 Degrees

Day / Night Mode

Auto Switch

IR Beam Reach

50 Metres

LED Type

6pc High Power IR LED