Uniden BW 3451R 4.3 Inch Digital Wireless Baby Monitor with Pan Tilt Zoom PTZ
Secure digital crystal clear wireless solution
Temperature display with temperature range alert
Selection of lullabies to play to your baby
Expandable up to 4 cameras
Walkie talkie function
Ability to Record up to 32GB on Micro SD Card
Zoom, pan & tilt capabilities
Quad, Auto Scan or individual views
Uniden 4.3 Inch Digital Wireless Baby Monitor with Pan Tilt Zoom PTZ
BW 3451R
Exceptionally user-friendly and high quality digital encrypted monitoring system, the BW3451R lets you maneuver and take control of the whereabouts of your child! The Uniden Baby Watch® app helps to assist the safety of your child while you're away from home. This system comes with a 4.3 Inch Colour LCD Display Receiver so that you can see and hear your child, even in darkness, with the camera's special Night Vision feature. Night Vision gives excellent monitoring visibility without the need for the room light being turned on. The system can even be expanded to accommodate 4 cameras.
With the Zoom, Pan & Tilt functionality, users can wirelessly control their view using Uniden's remote view app. Monitor the safety of your children from anywhere in the world with a walkie talkie function to soothe your baby remotely. The BW3451R also comes with Temperature Display with Temperature Range Alert and a selection of Lullabies to play to your baby.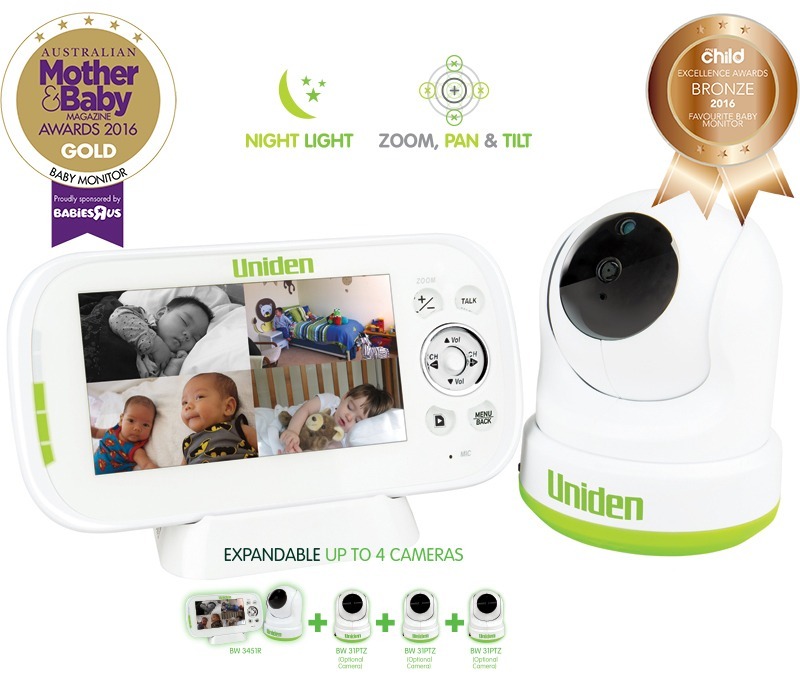 Key Features: 
Monitor the safety of your Children with Uniden's Baby Watch® App]
Secure digital crystal clear wireless solution
Temperature display with temperature range alert
Selection of lullabies to play to your baby
Expandable up to 4 cameras
Ability to Record up to 32GB on Micro SD Card
Zoom, pan & tilt capabilities
Quad, Auto Scan or individual views
Auto scan or individual views
VOX (Voice activated) record and alarm feature
What's in the box?
All items listed are new in original manufacturers packaging
*

4.3 Inch (10.9cm) Colour LCD Display Receiver

*
Portable Indoor Zoom, Pan & Tilt Video Camera
*
2 x Power AC Adaptors
*
Ethernet Cable
*
Charging/Ethernet Cradle
*
Mounting Bracket and Screws
*
Owners Manual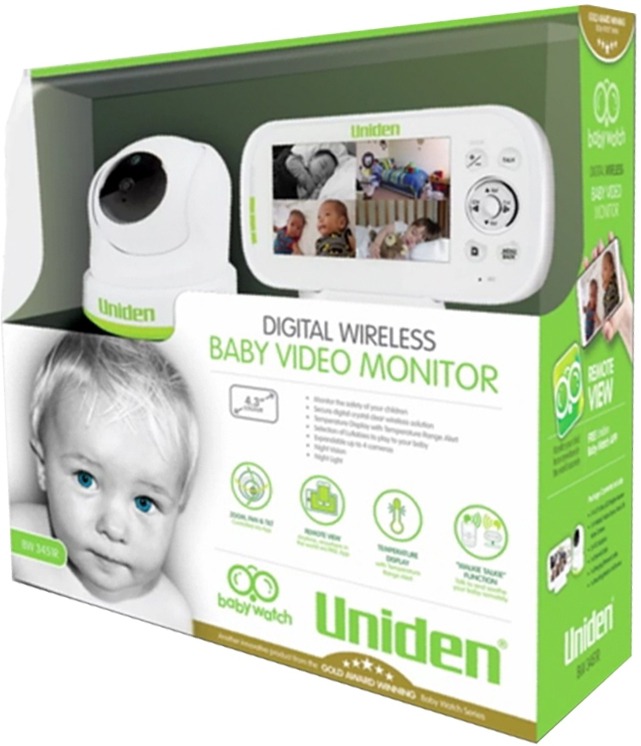 *Note:
 

Product contents may change without notice.
Warranty

1 Year Warranty

.Camera Format

PTZ
Related

Products
6 other products in the same category: