Categories
Best Sellers
Customers reviews
16/03/2019
Mark C.
This customer bought 15 product(s)
check_circle_outline
Verified Purchase
Swann 2MP SWDVK-445954 4CH/4CAM Kit
Good value for money.
13/03/2019
Mark C.
This customer bought 15 product(s)
check_circle_outline
Verified Purchase
SWDVK-445954 2MP 4CH & CAMERA
Reasonably good value for money, Nice clear picture
Uniden 4MP 16Ch GNR16700 NVR 4x GNC710 Bullet Commercial Grade Cameras 3TB HDD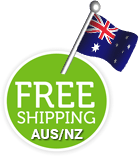 Price includes GST.
Accessories - Related Products
Uniden GNVR16700 Guardian Full HD NVR - 16 Ch 2TB HDDwith 4 x Uniden GNC710 4MP Bullet Cameras

GNVR16704
Introducing Uniden's state of the art Full HD NVR Security System, Ideal for securing home and business with 24/7 surveillance. Uniden provides a security solution to cater to your needs and maximise protection for small businesses and home. The GNVR16700 is a standalone 16 channel Full HD NVR system which can support up to 16 IP cameras for your home, office, workplace and more. The GNVR16700 NVR System is compatible with our GNC product range, from Outdoor, Motorised, and Dome Cameras.
 
Monitor your home or business using Uniden's Guardian Live PRO App iOS® or Android™ tablet, smartphone or plugged into your TV. Uniden's Guardian Live PRO App is a simple, reliable and secure interface, bringing surveillance into your own hands, sending you intelligent push notifications, email alerts or remotely view directly from the NVR to your smartphone wherever you are in the world in real-time or review archived recordings. 
 
The GNVR16700 allows you to respond quickly when there are unexpected movements viewed in real-time or you can review in the stored recordings. The large 3TB of storage allows you to continuously and simultaneously record on your IP cameras with USB backup giving you greater security protection in your home or business in any environment. The build and quality of the GNVR16700 is engineered in a way to ensure the surveillance guarantees you the best and reliable security solutions for home or business.

Key Features:
Supports up to 5MP IP Camera
Push Notifications & Email Alert Function
Record and Watch Footage via Smartphone or Tablet - Dedicated Guardian Live PRO App
Supports 200Mbps incoming bandwidth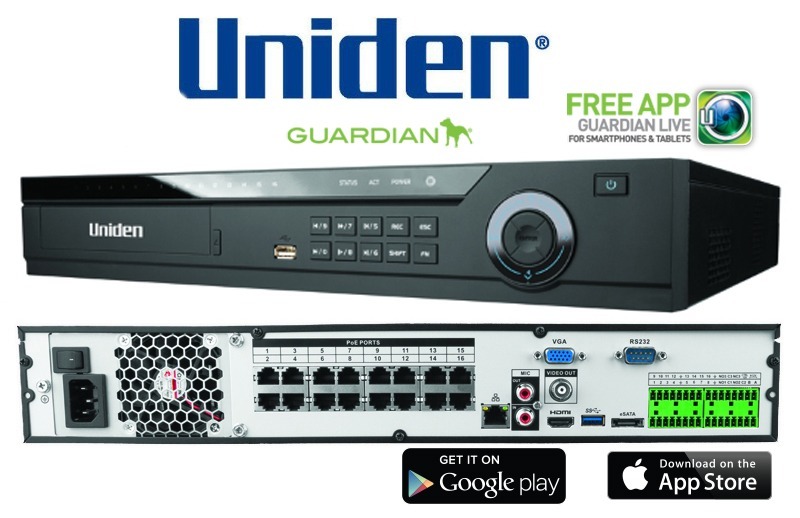 The GNC710 is an optional outdoor bullet security camera suitable for your GNVR86xx, 87xx, 167xx series. This additional camera provides the option to extend your Guardian FULL HD NVR system. The GNVR86xx is a robust 8 channel Full HD NVR system which can be viewed on your smartphone, tablet or through your television. This integrated system offers exceptional Full HD resolution and quality enhancing efficiency and monitoring capabilities. The GNC701 can also be viewed at night with night vision up to 30 metres offering versatility that is needed in the day and night environments.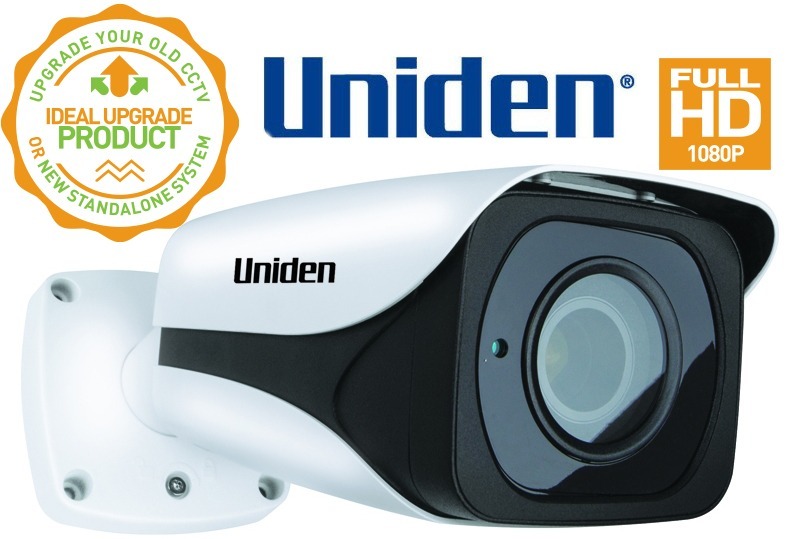 Key Features:
Support Micro SD card, up to 128GB
Up to 25fps @ 4MP (2688x1520)
Smart Features (Abandoned/Missing, Scene Change, Face Detect)
Performs in Indoor and Outdoor
^IP66 Weatherproof is defined as no ingress of dust; complete protection against contact (dust tight) and Water projected in powerful jets (12.5mm nozzle) against the enclosure from any direction shall have no harmful effects
Package Contents Includes: 
All items listed are new in original manufacturers packaging
*

Full HD NVR Unit GNVR16700 with 3TB HDD

*
4 x GNC710 4MP Bullet Cameras
*
2M Ethernet Cable (for NVR)
*
DVR Power Supply and mouse
*
Quick Start Guide
*

4 x Security Stickers