VIP Vision INTIPSIPSRV Apartment Series IP Intercom Management Server

In Stock - Ships from Sydney
inc-GST
• Manage devices and users via intercom
• Sets up live sessions between SIP devices
• Supports unlimited accounts
• Supports ~ 5000 VDP devices
• Manage individual user
• Card and fingerprint authority
• Emap supports to visualise system
• Remote unlocking, live view, PTZ control, snapshot
• Compatible with VIP Vision™ IP cameras, NVRs
VIP Vision Apartment Series IP Intercom Management Server
INTIPSIPSRV
The INTIPSIPSRV video talk intercom server sets up video/audio sessions using SIP (Session Initiation Protocol). Features powerful server management, VIP Vision™ IP surveillance integration and massive scalability to create intercom systems of any size.
Product Features:
• Manage devices and users over the intercom system
• Sets up live sessions between two or more SIP devices
• Supports unlimited accounts, 100 roles and 50 active users
• Supports up to 5000 VDP devices and up to 50 ONVIF devices
• Manage individual user/role active period permissions
• Card and fingerprint authority management
• Emap support to visualise system layout
• Remote unlocking, live view, PTZ control, snapshot and more
• Compatible with VIP Vision™ surveillance series: IP cameras, NVRs, etc.
Scalable Systems
Impressive intercom installations of any size.
Create scalable access control systems of any size easily over IP network. Perfect for installations in large residential dwellings, including apartment blocks, hotel and motel complexes with multiple rooms and more.
• Contact individual dwellings via front door station
• Connect up to 5000 devices per system
• Extend systems and add PoE with INTIPMONPOE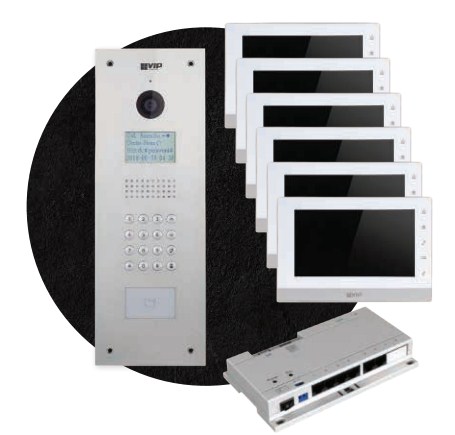 Centrally Managed
Complete system management from a single station.
Control the intercom system from one management centre, with functions such as user management, surveillance live view, remote unlocking and two-way communication with any indoor monitor/door station.
• Create comprehensive system management centres with the management station and SIP server
• Assist users that press the support button with remote unlocking and two-way voice chat
• Assign active periods & individual user permissions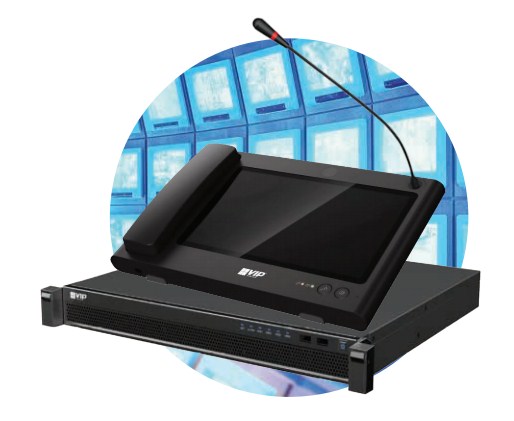 CCTV Integration.
Distribute live CCTV surveillance to all residents.
The central server can integrate network surveillance cameras & recorders into the intercom system and distribute the live camera feed to each residents' indoor monitors for community surveillance.
• Distribute camera video streams to indoor monitors
• Capture video streams from intercom door stations and record to interconnected CCTV recorders
• Centrally configure the remote view to push the intercom video/audio calls to residents' devices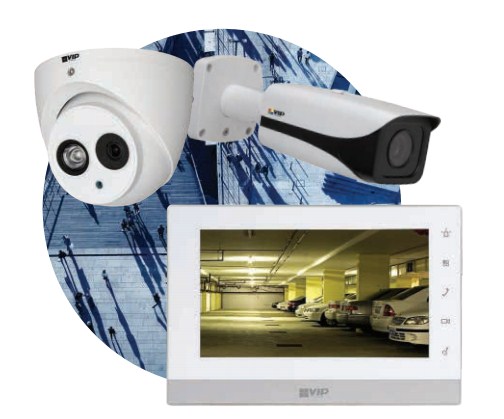 Specifications:
System
Main Processor
Quad-Core Processor
Operating System
Embedded Linux
Memory
4GB
Chassis
1.0mm SGCC steel plate
Interface
Network Port
4 x RJ-45 Ports(10/100/1000Mbps )
Ethernet Port
4 x Ethernet Ports Joint Working or 4 Independent / 1000Mbps Ethernet Ports
RS232
Reserved
RS485
Reserved (Reusable with alarm port)
Alarm Input/output
Reserved (Reusable with alarm port)
USB Port
Front panel: 2 x USB 3.0, Rear panel: 2 × USB 2.0
HDMI
2 x HDMI, one as network config, another as spare
VGA
1 x VGA, as network config
HDD Installation
Built-in 1× 1T HDD disk (2.5") for system, Support 3 HDD disks (2.5") for Video & Picture storage
Video Management
Video Channels Per Server
256
Clients Per System
50 Online Users
Numbers of Users
Unlimited
Numbers of Roles
100
Bandwidth of Video Input per Server
300 Mbps
Bandwidth of Video Output per Server
300 Mbps
Alarm Inputs
Process 20 channel alarm per second
Video Talk
VDP ID
5000 ( up to 256 VTO )
Video Talk At The Same Time
Up to 100
Alarm Inputs And Door Opens Information
20/s (Average) 80/s (Peek)
General
Power Supply
100V ~ 240V, 47 ~ 63Hz
Power Consumption
35W ~ 50W (with HDD)
Operating Environment
0℃~50℃ / RH5%~90% (non-condensation)
Storage Environment
-20℃~70℃ / RH5% ~ 90% (non-condensation)
Working Altitude
-60m ~ 3000m
Dimensions
440mm x 398.6mm x 43.6mm (1U)
Weight
4.5Kg
Warranty (Years)
4
Brand

VIP Vision Australia

Warranty

4 Year Warranty