Best Sellers
Customers reviews
16/03/2019
Mark C.
This customer bought 15 product(s)
check_circle_outline
Verified Purchase
Swann 2MP SWDVK-445954 4CH/4CAM Kit
Good value for money.
13/03/2019
Mark C.
This customer bought 15 product(s)
check_circle_outline
Verified Purchase
SWDVK-445954 2MP 4CH & CAMERA
Reasonably good value for money, Nice clear picture
Watchguard LC-PACK1 2020 3G Wireless Home Office Alarm System with Phone Alerts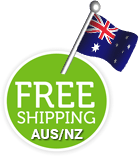 Price includes GST.
Accessories - Related Products
Watchguard LC-PACK1 2020 3G Wireless Alarm System
RC-ALC-PACK1
This 3G Wireless Alarm System is perfect for Renters, the Elderly and anyone wanting a simple alarm system without the cost and bothers of having one professionally installed. It is a Wireless 3G Alarm with PIR motion detectors that will alert you via the mobile phone when the alarm is activated or events (be alerted when Johnny comes home from School). 
So let's look at how it works - you need to purchase a 3G Mobile Phone Sim card with credit, obviously different carriers have different options. This system uses SMS's to operate so you do not need any data on the SIM. It also needs the ability to make phone calls, so try to find the best Phone / SMS mobile sim package. Aldi has a 365day sim card which is great, or maybe data share SIM from Telstra might be the go for you.
There are several modes this unit can operate. Standard Alarm, where you activate via the keyfobs(remotes) and when the system is alarmed, your mobile will receive an SMS and the system will also call your mobile. Up to 5 telephone numbers can be loaded via the Apple/Android App.
There is also an SOS feature or using the optional emergency pendant, this can be programmed to call a family member for an elderly person. This is actually an excellent feature, perfect for the elderly, this can be their house alarm and emergency caller all in 1 unit. OR you can be alerted whenever the system is Armed/disarmed or when the RFID tags are scanned by the kids when they come home from school.
The main unit plugs into power via the supplied power adapter, the main unit has a battery backup lasting for many hours should the power be cut. The sensors all take batteries that last for over 6 months, simple AA batteries in the PIR sensor.  That is it, no other cables to run, everything is wireless (there is 2 wired inputs and wired external siren if required). The system is so simple, yet reliable.  We have one on display in our office in Dural that is in use 24/7 should you require a demo.
Detailed Description of manufactures website
The Watchguard 2020™ Wireless Alarm System comes with a sleek modern design and a user-friendly front panel that is ultra responsive to touch. With a SIM slot that supports 3G SIM's and networks, it is your best guard against would-be intruders, one that would notify you via SMS text message or phone call upon detection of intrusion or abnormalities. You can turn the unit on and off and set up extra sensors and zones directly on the panel, via a paired remote control, a paired RFID tag, its iOS or Android smartphone app, an SMS text message or a phone call.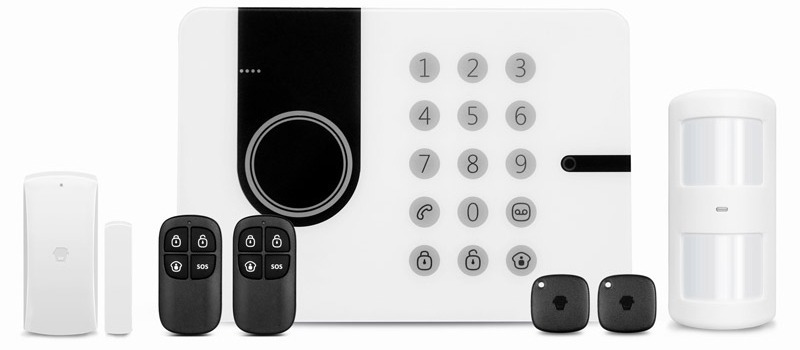 The Watchguard 2020™ Wireless Alarm System works with a wide range of wireless, battery-powered sensors and accessories that are easy to set up and operate, so you can scale up or down the system based on your specific residential or security needs. Up to 50 sensors and accessories can be installed which gives you a huge range of possibilities.
The system can be set up to let you know if there is an emergency at home with smoke alarms and water leakage or flood sensors. You can use the simple administrator alert system to let you know when the alarm has been disarmed by a user which is useful for letting mom or dad know when the kids are home from school while they are at work. All you need to add to get this system up and running is a pre-paid 3G or 4G sim card from a provider which has good coverage in your area. 
 

Product Features:
Supports 3G SIM's and networks
Interact with system via control panel, remote control, RFID tag, smartphone app, SMS or a phone call
Internal siren volume 95dB
Connect up to 50 wireless sensors, 50 RFID tags, and 10 remote controls
Administrator can be advised which user has disarmed the alarm
Simple arm/disarm via remote or mobile when entering/leaving
Alert notifications via SMS or phone calls (up to 5 mobile numbers)
Low-battery notifications from wireless sensors and accessories
DC12V power supply with backup 3.7V Lithium battery
* Mobile phone and SIM card not included
 


Included components:
ALC-CP1 3G/WCDMA Control Panel x 1 
ALC-DC1 Door/Window Contact x 1 
ALC-PIR1: Pet-Immune PIR Motion Detector x 1 
ALC-RC1 Remote Control x2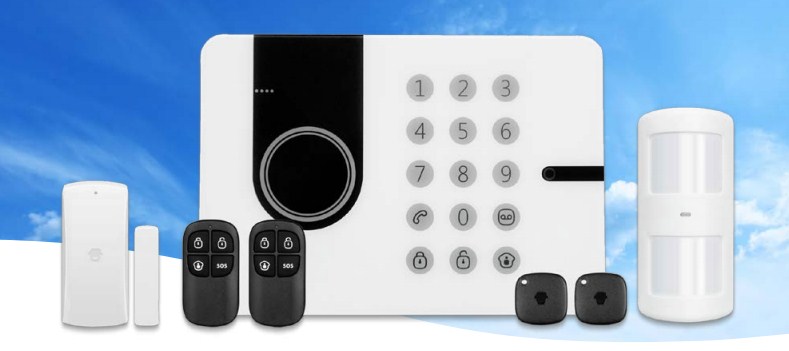 Connection Type

Wireless

Warranty

1 Year Warranty

Compatible with

Watchguard 2020 Wireless Alarm System