08/05/2018
Stuart B.
This customer bought 10 product(s).
Excellent Video Quality
This is excellent video quality and nice quality product
Watchguard ALC-RC1 2020 Remote Control Key Fob

A$29.80
Price includes GST.
Transmission range: 30 metres (open area)
Transmission range: 20 metres (through two walls)
Battery Type:  1 x CR2025
Battery life: 3 years
Accessories - Related Products
Watchguard ALC-RC1 2020 Remote Control Key Fob
ALC-RC1
Extra key fob remotes to replace or use as additions to your Watchguard 2020 wireless alarm system. This is a lightweight remote control. You can arm and disarm your alarm system with or without sound notification. You can also arm your alarm in night/stay/home mode using this remote. There is also a 24-hour panic button that will trigger the alarm in case of an emergency. 
Easy to carry around on a keychain or in your pocket or purse, the ALC-RC1 helps you quickly arm or disarm your alarm system, and comes with an SOS panic button. It uses a CR2025 lithium button cell battery. The ALC-RC1 remote control is designed for use with Watchguard 2020 Wireless Alarm Pack and Wireless Wifi Alarm Pack.
The remote control enables you to turn the alarm system on and off before entering the home or after exiting. If there is an emergency, press SOS button on the remote control to trigger the panel. The ALC-RC1, compact and portable, is designed to fit on a keychain, in a pocket, or in a purse.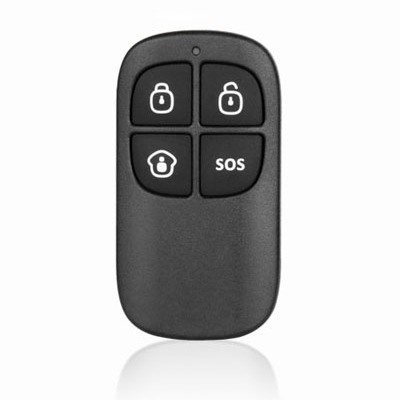 Specifications: 
Power supply: DC 3V (CR2025 Lithium Battery x 1pc)
Alarm current: ≤ 7mA
Transmitting distance: ≤80m (in open area)
Radio frequency: 315MHz or 433MHz (± 75KHz)
Housing material: ABS plastic
Operating Condition: temperature -10°C~50°C
Relative humidity: ≤80%RH (non-condensing)
Dimensions: (L x W x H) 58 x 31 x 9.5mm