Watchguard ALC-RPT1 2020 Wireless Alarm Kit Signal Repeater

A$129.00
Price includes GST.
Use where wireless alarm devices are used and signals need to be boosted
Enhances wireless radio signals for longer transmission distances
Uses secure encryption and decryption technology
Wireless receiving range up to 90m (in open area)
Wireless transmitting range up top 300m (in open area)
Supports up to 40 accessories
AC 110V-240V with 3.7V lithium backup battery
Accessories - Related Products
Watchguard RC-ALC-RPT1 2020 Wireless Alarm Kit Signal Repeater
RC-ALC-RPT1
Match this repeater with your Watchguard 2020 wireless alarm system to extend the wireless range and allow you to add sensors and keypads to areas you could not previously cover. This wireless signal repeater can also be used to give a longer range to accessories such as the wireless keyfob and the SOS panic button so you can cover all of your property and not have to worry about being out range if you need to raise the alarm or call for help.
The repeater can add up to 90m extra receiving range (in an open area) allowing sensors/keypads and panic buttons to all connect back to the repeater from up to 90m away. As the repeater can also be up to 90m away from the base station this can give you a total of up to 180m of cover (in an open area). The repeater can support up to 40 accessories and is powered via an AC-110V-240V power adapter and includes a 3.7v lithium backup battery so it keeps working even if the power goes out.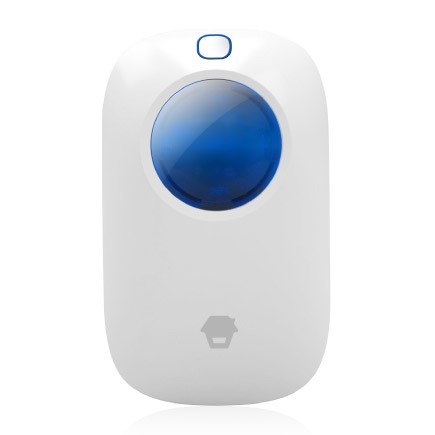 What do we mean by (in an open area)? - We use this phrase as it is the simplest way to measure the total possible range of a wireless transmitter/receiver. It is measured from point to point where the receiver has an unobstructed line of sight connection to the transmitter. We use this as a standard as every home or property in which you may want to install this wireless alarm kit is different. The range of the wireless connection is shortened every time the signal has to pass through a wall or door or window. The signal strength can also be affected by interference from items such as microwaves and fridges and other wireless transmitters. 
When looking at installing your wireless system or trying to figure out if one will work for you, it is important to remember EVERYTHING blocks Wi-Fi signals just in different amounts. Plaster/Wood/Gyprock and Glass don't interfere too much but brick and stone and water can be more problematic. the materials that cause the biggest issue are ceramic/concrete/metal and mirrors as these reflect visible light and radio waves alike potentially blocking any signal from passing through. So please consider this when deciding where to place your wireless camera and wireless alarm systems. If you are unsure about this product being suitable for your particular situation please do not hesitate to give the team at Infront Technologies a call on 1300 736 970 for further advice.
Can only be used in conjunction with the Watchguard 2020 Base or Wireless Base unit.
Product Features:
Use where wireless alarm devices are used and signals need to be boosted
Enhances wireless radio signals for longer transmission distances
Uses secure encryption and decryption technology
Wireless receiving range up to 90m (in open area)
Wireless transmitting range up top 300m (in open area)
Supports up to 40 accessories
AC 110V-240V with 3.7V lithium backup battery