Hikvision 8CH PoE CCTV 4K NVR with 3TB Hard Disk - DS-7608NI-I2-8P

In Stock - Ships from Sydney
Up to 8 channel IP cameras can be connected
Up to 2-ch@12 MP/16-ch@1080p decoding capacity
1 HDMI and 1 VGA interfaces: both interfaces support independent video output
2 HDDs for continuous video recording
Plug & Play with 8 Power-over-Ethernet (PoE) interfaces
Supports various special function cameras, including thermal camera/fisheye/people counting/heatmap/ANPR (automatic number plate recognition)
Advanced streaming technology enables smooth live view and data self-correction in poor network conditions
Supports dual-stream recording to save time and bandwidth
Choose various payment options & finance. Paypal, Credit Card, ZIP Money - interest free, Afterpay, even Bitcoin! These OPTIONS are all available at CHECKOUT.

Shipping, we're fast! -- 99% of orders leave us the same day of ordering. Express shipping methods available at checkout.

Fast response to warranty and support. Great Australian Company based out of Sydney. We've been doing this for over 20 years.
Hikvision 8ch PoE CCTV 4K NVR with 3TB Hard Disk
DS-7608NI-I2-8P
Hikvision's HIK-7608NI-I2-8P / DS7608ni is an 8 channel embedded plug-and-play network video recorder. Part of Hikvision's I Series NVR range, it houses a 4-core processor from Huawei and supports H.264+ intelligent compression which aims to reduce bandwidth and storage requirements by up to 50%.
Additionally, this NVR combines multiple advanced technologies such as audio and video decoding technology, network technology and intelligent technology, all contributing factors to the I Series range running smoother than previous generations. Featuring 8 PoE network interfaces for easy plug and play setup and capable of 4K(UHD) video output via HDMI and 1080P via VGA, this NVR supports up to 12MP resolution recording.
This high-performance and reliable unit is flexible and can be installed for decent-sizes domestic and commercial installations where a complete HD surveillance experience is required.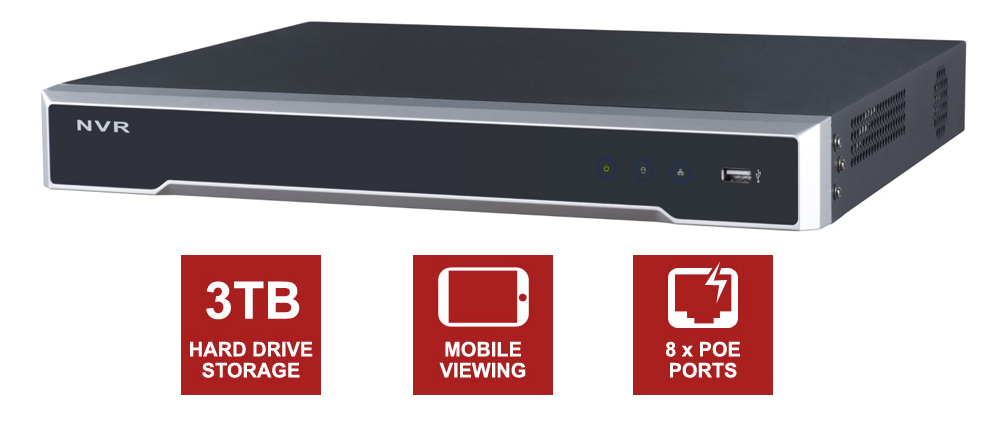 Up to 8 channel IP cameras can be connected
Up to 2-ch@12 MP/16-ch@1080p decoding capacity
1 HDMI and 1 VGA interfaces: both interfaces support independent video output
2 HDDs for continuous video recording
Plug & Play with 8 Power-over-Ethernet (PoE) interfaces
Supports various special function cameras, including thermal camera/fisheye/people counting/heatmap/ANPR (automatic number plate recognition)
Advanced streaming technology enables smooth live view and data self-correction in poor network conditions
Supports dual-stream recording to save time and bandwidth
Features and Functions:
Professional and Reliable
New logical and visualized GUI design
Dual-OS design to ensure high reliability of system running
ANR technology to enhance the storage reliability when the network is disconnected
Video Input and Transmission
Adopt stream over TLS encryption technology (enhanced SDK service and RTP over HTTPS protocol) which provides more secure stream transmission service (max. 128 Mbps TLS stream outgoing bandwidth)
Up to 32-ch IP cameras can be connected (up to 12 MP)
Connectable to the third-party network cameras
Compression and Recording
H.265+ compression effectively reduces the storage space by up to 75%
Full channel recording at up to 12MP resolution
HD Video Output
HDMI and VGA independent outputs provided
HDMI Video output at up to 4K (3840 × 2160) resolution
Storage and Playback
Up to 2 SATA interfaces for HDD connection
8-ch synchronous playback at up to 1080p resolution
Important files management
HDD health monitoring
Smart &POS Function
Supports multiple VCA (Video Content Analytics) events
Smart search for the selected area in the video; and smart playback to improve the playback efficiency
Supports VCA search for fire/ship/temperature/temperature difference detection triggered video files
POS information overlay on live view and playback
POS triggered recording and alarm
Network & Ethernet Access
Hik-Connect for easy network management
Gigabit Ethernet network interface
This high-performance and reliable unit is flexible and can be installed for decent-sizes domestic and commercial installations where a complete HD surveillance experience is required.
Features

Remote Access APP ( iOS & Android )

Connection Type

Ethernet (POE)

Recorder - Video Inputs

8 Ethernet RJ45 Sockets PoE

Recorder - Video Outputs

HDMI, VGA

Recorder - Hard Disk Drive - Included

3TB HDD

Camera Style

HIKVISION NVR Recorder for Compatible PoE Cameras
Hikvision is globally the largest manufacturer of CCTV, this manufacturing giant also OEMs CCTV for many well known brands. 
It is important to note, that from December 2015, Hikvision is encoding all cameras with software to stop parallel importing.  Therefore if you purchase direct from China through well known websites the cameras will not work with Australian NVR's.  InFront Technologies has direct relationships with Hikvision Australia and therefore all our Hikvision stock has been purchased through Australian channels.