Dahua Network Video Recorders
Dahua NVR Security Surveillance Recorders
Dahua WizMind AI, Ultra, Pro, and Lite Series network recorders are tailored to fit different applications.
Lite Series recorders are designed for optimum cost performance with strict Dahua quality standards.
Pro Series devices are perfect for mid-large size businesses and projects which require a balance between performance and budget.
Ultra Series: Premium NVRs perfect for Hotels, Bars, Clubs & Commercial Business
WizMind AI recorders offer the best performance and highest quality. Packed with features the WizMind series NVR is one of the smartest on the market
Dahua 3 Year Warranty
The Dahua quality guarantee from the vast range of NVRs & Cameras. Feel trusted in the quality of security you have chosen to last through the Australian elements.
Keep scrolling to view all Recorders ↓
The Lite Series is suitable for users who want high quality at a reasonable price. It features a superior cost/performance suitable for residential and small-medium business applications. The series offers a wide range of resolutions with Full-color/Starlight/general options to fit every scenario.
Example: DHI-NVR4108HS-8P-4KS2
Network Bandwidth: 80 Mbps for access, 80 Mbps for storage and 48 Mbps for forwarding
Mobile Phone Access: Android; iOS - DMSS APP
Main Processor: Industrial embedded microprocessor
Video: Smart H.265+/H.265/Smart H.264+/H.264
Recording: Supports Manual recording, alarm recording, motion detection recording, timed recording
Intelligent Video System: NVR recognises and records video that contains IVS data on all IP channels. Detect abandoned or missing objects, Tripwire violations, Intrusion violations, Face Detection, People Counting, Heat Map and NEW Human/Vehicle Identification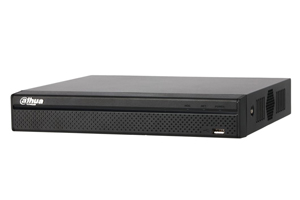 Dahua's Pro Series is the next step up from the Lite Series. It features all the same technologies as the Lite Series, as well as advanced AI features such as Wizsense and Wizmind (facial recognition, perimeter protection, smart motion detection and in the case of Wizmind, extra features such as metadata and people counting).
Example: DHI-NVR5208-8P-4KS2E
Network Bandwidth: Max 320Mbps Incoming Bandwidth
Mobile Phone Access: Android; iOS - DMSS APP
Main Processor: Quad-core embedded processor
Video: Smart H.265+/H.265/Smart H.264+/H.264
Recording: Supports Manual recording, alarm recording, motion detection recording, timed recording
AI Search: Search for pictures by channel, time and event type (by Camera)
Intelligent Alarm: Perimeter protection; face detection; face recognition; SMD; video metadata (human; motor-vehicle; non-motor vehicle) ; ANPR; people counting; stereo analysis; crowd distribution;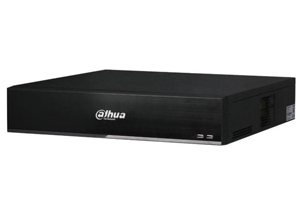 Dahua's next-generation network video recorder offers unparalleled recording technology for IP video surveillance applications. For applications where details are critical for identification, this enterprise-level NVR provides a powerful Intel processor with up to 4K resolution. Additionally, the NVR features a mouse shortcut operation menu, remote management and control, centre storage, edge storage, and backup storage.
This NVR is ideal for a wide range of applications such as public safety, transportation stations, government institutions, hotel resorts, shopping malls, city centers, and financial institutions, where demand expansion flexibility, high reliability and centralized storage management.
Example: DHI-NVR608-128-4KS2
Point of Sale: Ideal for grocery and retail stores, the optional POS solution allows the NVR to receive a POS transaction via corresponding video
Smart Tracking: The auto-tracking PTZ feature automatically tracks a moving target throughout the camera's field of view
Heat Map: Highlights the areas with the highest concentration of people. This information can then be exported into a customized report to assist in business or forensic analysis.
Main Processor: Industrial embedded microprocessor
Network Bandwidth: 384 Mbps for access, 384 Mbps for storage and 384 Mbps for forwarding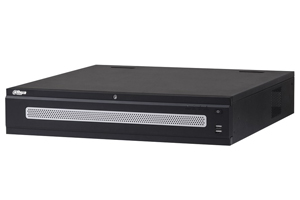 WizMind provides precise and reliable and comprehensive AI products for verticals.
Precise: Powered by AI chip and deep learning algorithms, WizMind delivers accurate detection and recognition of human and vehicle, enabling users to rapidly and precisely act on what really matters. In addition, it provides accurate and effective AI search to locate targets, and various human-based data for business analysis.
Example: DHI-NVR5216-16P-I
Network Bandwidth: 320 Mbps (160 Mbps when AI function enabled)
Mobile Phone Access: Android; iOS - DMSS APP
Resolution: Max resolution range of 24MP
Object classification: Human/Vehicle secondary recognition for tripwire and intrusion
Stranger Mode: Detect strangers' faces (not in the device's face database). The similarity threshold can be set manually
Database Management: Up to 20 face databases with 200,000 face images in total. Name, gender, birthday, nationality, address, ID information can be added to each face picture.
Vehicle: Plate No., type, color, vehicle type, logo, plate color, ornament, calling, seatbelt, region.