Watchguard 2 Channel Receiver for WGAP864 - WGAP864WRX2

In Stock - Ships from Sydney
Up to 128 users
Full user identification
Programmable form the keypad
2 relay outputs with 1A contacts
More receivers for more partition control
Excellent remote range
Choose from Various Payment Types.
Paypal, Credit Card, ZIP Money, Afterpay, Bitcoin & Direct Deposit
Shipping we're fast!
99% of our orders leave us the same day of ordering. Express Shipping options available at checkout.
Fast Reponses to Warranty & Support
We answer your questions fast. Great Australian Company based out of Sydney for over 20 years.
Watchguard 2 Channel Receiver for WGAP864
WGAP864WRX2
2 Years Warranty!
The WGAP864WRX2 Remote Receiver is a 433.92 MHz RF receiver that is designed to connect to a WGAP864 Alarm Panel. The receiver connects to the keypad Bus (via D+ and D- terminals), permitting the Alarm Panel to be armed and disarmed from Remote Transmitters. When remotes are learned, they are assigned to USER CODES stored in the Watchguard Alarm Panel. This means that the Alarm Panel is able to log ARM/DISARM events per user.
The Remote Receiver enables users of a WGAP864 to remotely operate essential functions of the WGAP864 Alarm Panel by pushing buttons on Remote Transmitters.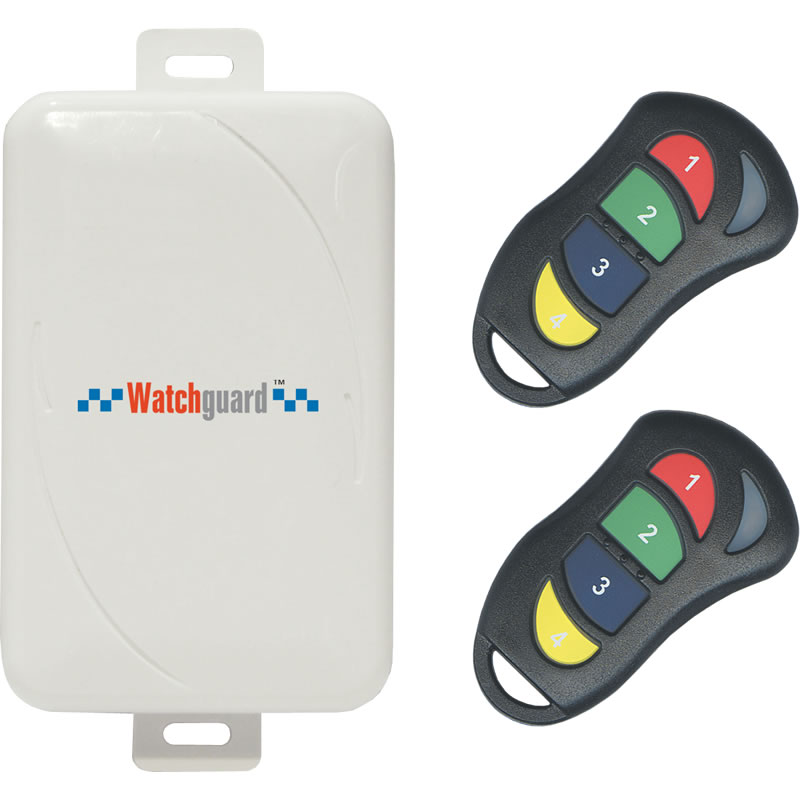 The Remote Receiver gives the WGAP864 users the convenience of pressing a Remote Transmitter button instead of going to the keypad; it gives each user the additional security of carrying their own panic button.
The WGAP864 Alarm Panel functions can be operated via a Remote Receiver, are arm/disarm, stay arm, and panic. The Remote Receiver also provides two relays that can be operated by Remote Transmitters, which can be used to operate gates or lights.
Product Features:
• Up to 128 users
• Full user identification
• Programmable form the keypad
• 2 relay outputs with 1A contacts
• More receivers for more partition control
• Excellent remote range
• Communicates with the Alarm Panel via a keypad bus
• Secure code hopping functionality
• The receiver can learn most rolling code transmitters
• Remote buttons can be programmed to arm/disarm; stay arm, panic, relay1, relay2, or no action
• 3 Second any button panic option
• Each Receiver has two outputs ideal for gate/garage or light control
• Dedicated tamper zone
Brand

Watchguard

Warranty

4 Year Warranty