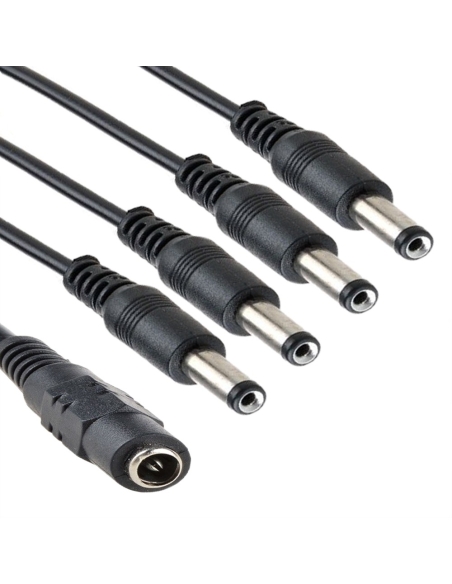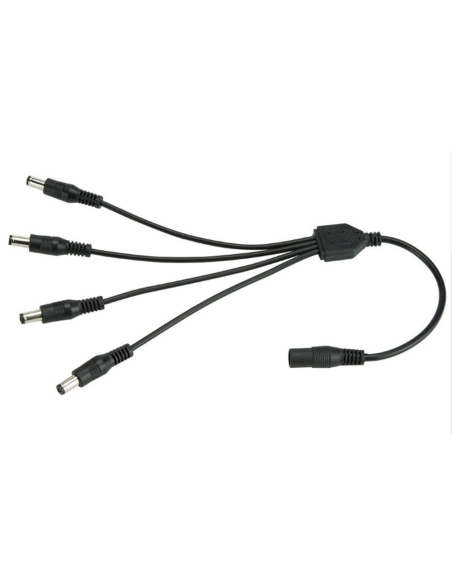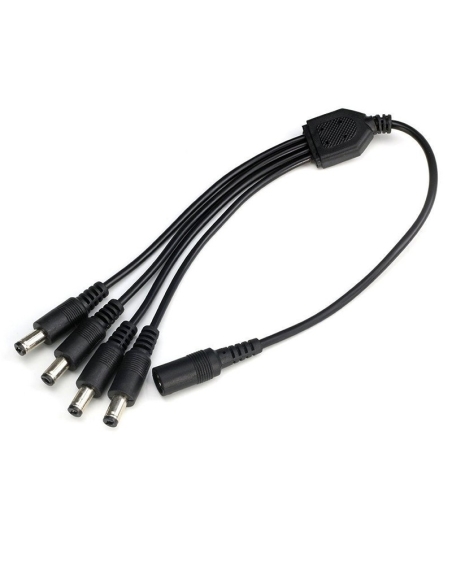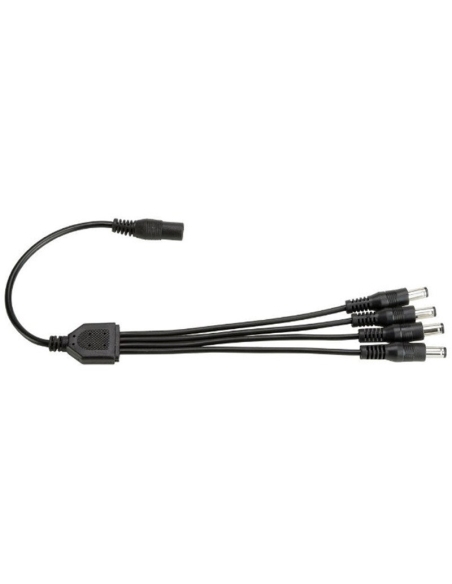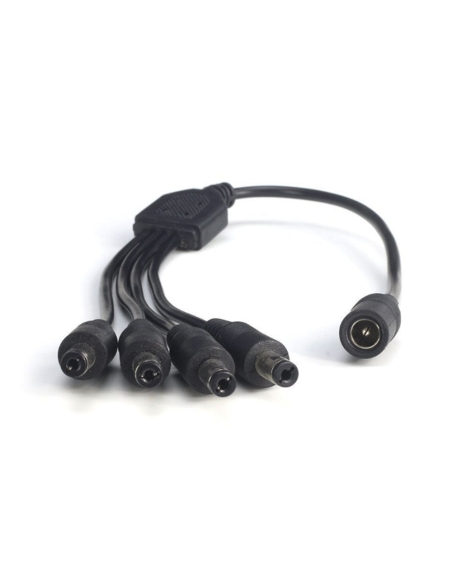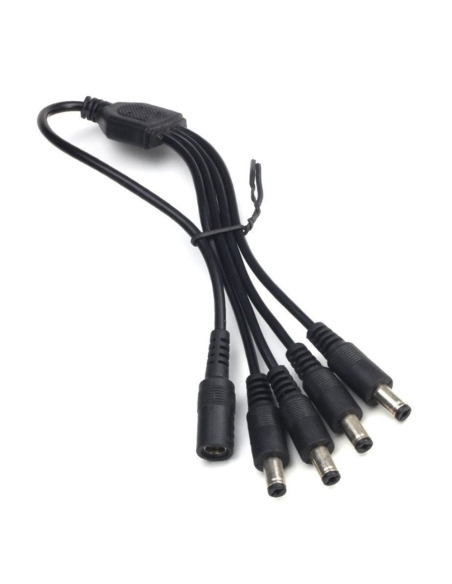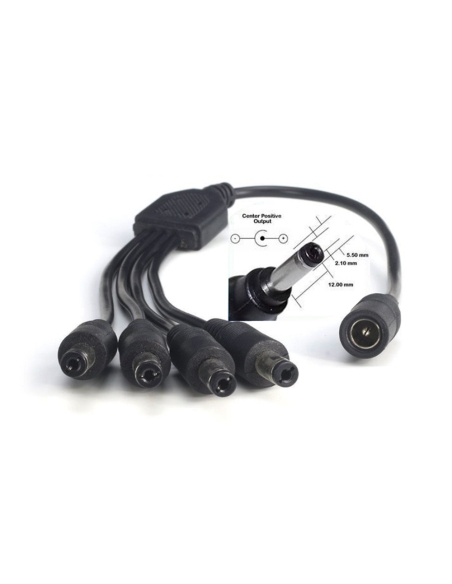 Power Splitter 4-Way Swann CCTV AC/DC General Power 2.1mm

In Stock - Ships from Sydney
Simple and look Professional for wiring
Easiest for CCTV Camera Installation Saves Time and Money
Easy to use
Materials (External): PVC Plastic
Total Length: About 22 ~ 25 cm
USED ​​For any 2.1mm male DC power adapter
Plug Diameter: 5.5mm outer, inner 2.1mm
Connector Type: 5.5 * 2.1mm 1 * Female To 4 * Male Cable
Choose from Various Payment Types.
Paypal, Credit Card, ZIP Money, Afterpay, Bitcoin & Direct Deposit
Shipping we're fast!
99% of our orders leave us the same day of ordering. Express Shipping options available at checkout.
Fast Reponses to Warranty & Support
We answer your questions fast. Great Australian Company based out of Sydney for over 20 years.
Factory made Power Splitter 4-Way Swann CCTV AC/DC General Power 2.1mm -> 1 Female 2.1mm Socket to 4x Male(Plugs) 2.1mm
 Need to split one Power Supply to 4? this is the solution
SR-DCSP-1F4M
Power Splitter DC 4Way - 1xFemale 2.1mm Socket to 4xMale 2.1mm Plugs - Perfect for CCTV and General Purpose DC Requirements. This is a very simple splitter cable perfect for using multiple cameras on 1 power supply.  One female 2.1mm DC socket then 25cm cable and 4 x Male 2.1mm Plugs. It is very important to ensure the total load of the cameras does NOT exceed the output current of your power supply.
Run multiple devices from a single power supply or extend the low voltage cable between a plug pack and a device. Ideal for surveillance applications and available in a range of versions to suit many applications. All cables pre-made with molded DC plugs and sockets.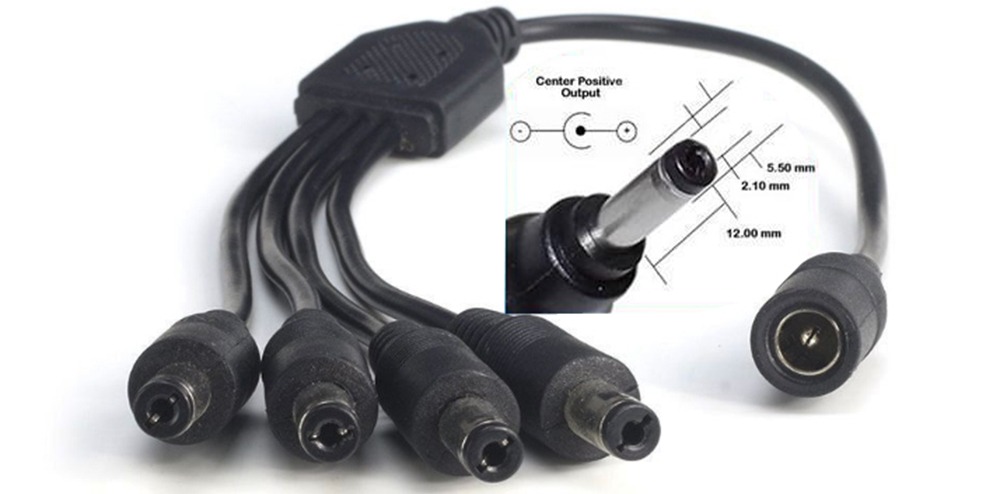 Simple calculations --> applies to all splitters: 
If you have 8 cameras using 300mA each = 2.4Amps - you need a minimum 2.5Amp power supply, preferably 3Amps.
Cam1+Cam2+......+Cam8 = Total Current Required. (example for 8-way)
Connection Type

2.1mm Male DC Power Adapter

Brand

Swann - AU

Warranty

12 Month + 6 Month Bonus

MPN-Alternates

SR-DCSP-1F4M, SWPRO-60MBNC, Swann Splitter

Type

CCTV Security Power Splitter
Swann is a global leader in security monitoring, consumer electronics and security-centric solutions for the smart homes and businesses of today and tomorrow.
Swann has always been a leader. From humble beginnings in the basement of David Swann's family home in Melbourne, Australia the business now has offices in the USA, Canada, Australia, UK, Hong Kong and China and a presence in over 40 countries on 6 continents. Swann pioneered the category of Do-it-Yourself security and is proud of the work it has done to make local communities safer. Today Swann is part of the Infinova Group, providing the business with enhanced manufacturing capabilities, cutting-edge research and development of security and networking solutions and access to an expanded international network.

Swann has once again been ranked the world's largest manufacturer of Do-it-Yourself Video Surveillance Equipment*. The business remains at the forefront of innovative surveillance and monitoring technology with recent new product developments including state-of-the-art professional-quality CCTV recording systems and cameras, such as 4K, 4 and 3 Megapixel digital HD, and the latest 1080p TVI and AHD analog HD systems. The Swann range is designed with a goal to make the latest security technology accessible, affordable and easy to use with do-it-yourself installation. All Swann products are backed by the brand promise of Lifetime Support with free 24/7 customer service. The company's products are available through some of the largest 'bricks and mortar' and online retailers in the world.
Swann has recently launched a security-centric connected home solution known as SwannOne. It's a single platform that allows users to control video surveillance, alarms, locks, lighting, sound alerts, temperature, energy management and more, all on their Smartphone or tablet using the free SwannOne app. Users can also adapt the system to their needs by customizing extra services including professional monitoring on-demand, cloud video recording, additional sound alerts and more. Once again, this positions Swann at the cutting-edge and is another example of the company's commitment to deliver advanced security made easy.