Power Splitter 6-Way Swann CCTV AC/DC General Power 2.1mm

100% brand new and high quality.
1 For DC Female to 6 Male Power Splitter Cable
Plug Diameter: 5.5 mm outer, inner 2.1 mm
A convenient and cost-effective way to power up
6 cameras with 1 power adapter
length :15inch
6 Channel Power Cable Splitter For Security
Choose from Various Payment Types.
Paypal, Credit Card, ZIP Money, Afterpay, Bitcoin & Direct Deposit
Shipping we're fast!
99% of our orders leave us the same day of ordering. Express Shipping options available at checkout.
Fast Reponses to Warranty & Support
We answer your questions fast. Great Australian Company based out of Sydney for over 20 years.
Swann CCTV DC 6 Way General Power Splitter
SR-DCSP-1F6M
This is a very simple splitter cable perfect for using multiple cameras on 1 power supply.  One female 2.1mm DC socket then 25cm cable and 6 x Male 2.1mm Plugs. It is very important to ensure the total load of the cameras does NOT exceed the output current of your power supply.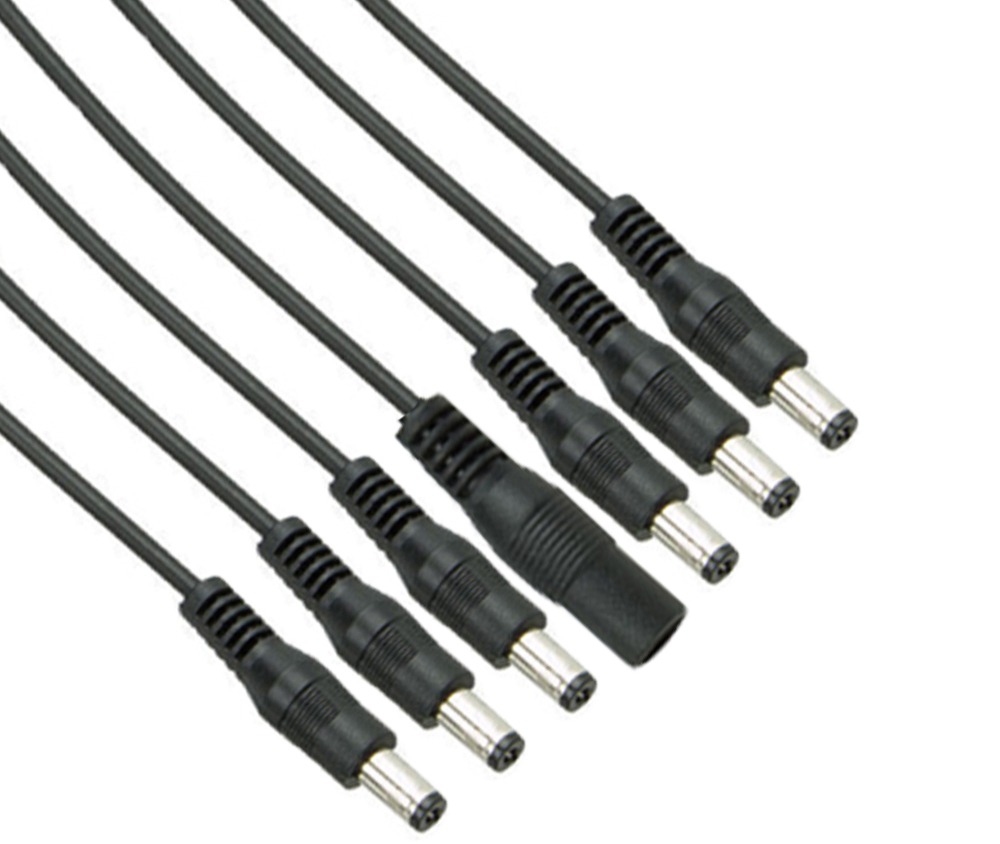 Features:
100% brand new and high quality.
1 For DC Female to 6 Male Power Splitter Cable
Plug Diameter: 5.5 mm outer, inner 2.1 mm
A convenient and cost-effective way to power up
6 cameras with 1 power adapter
This For DC Power Adapter Y Cable Pigtail splits 1 power signal into 6 and is useful for powering multiple cameras from one central adapter.
6 Channel Power Cable Splitter For Security
Simple calculations:  If you have 8 cameras using 300mA each = 2.4Amps - you need a minimum 2.5Amp power supply, preferably 3Amps.
Cam1+Cam2+......+Cam8 = Total Current Required.
Should you require a larger power supply please search the site, we have larger supplies available
Connection Type

2.1mm Male DC Power Adapter

Brand

Swann - AU

Warranty

12 Month + 6 Month Bonus

MPN-Alternates

SR-DCSP-1F6M, SWPRO-15MBNC, Swann Power Spiltter

Type

CCTV Security Power Splitter
Affordable, intelligent CCTV System from one of the worlds most well known names in Security, Swann.
From its humble beginnings in Melbourne to leading the global for intelligence and affordability, Swann has you covered from every angle.
InFront Tech has strong relationships with Swann and have been supporting the brand for over 20 years. 
InFront Technologies has been Swann's leading online distributor for over 20 Years. Located in Dural Sydney Australia we can ship quickly to all parts of Australia
So why choose us? when you choose to purchase from us not only are you supporting an Australian owned company but you get the support and knowledge you need before & after you purchase.
Swann offer a 12 Month warranty on all of their products, if any issues occur please don't hesitate to contact one of our friendly staff members to assist.
How quickly will I receive my order?, We ship to all parts of Australia using trusted Couriers such as Direct Freight Express, Australia Registered Post & more. We are known for making sure you get your order as quickly as possible, if you place an order before 3PM your order will leave that same day. If you are located in the metro areas of NSW, VIC, SA & QLD then you can expect to get your orders between 1-2 days.
We carry the latest security kits and cameras from Swann from their budget 4K DVR-5580 Series all the way to the NEW 4K IP Enforcer NVR-8980 Series.
We custom build kits everyday, if you are wanting a system to suit your needs and we don't have it listed please email or call us and we will happily be able to assist you with a quotation.
Swann is a global leader in security monitoring, consumer electronics and security-centric solutions for the smart homes and businesses of today and tomorrow.
Swann has always been a leader. From humble beginnings in Melbourne, Australia the business now has offices in the USA, Canada, Australia, UK, Hong Kong and China and a presence in over 40 countries on 6 continents. Swann pioneered the category of Do-it-Yourself security and is proud of the work it has done to make local communities safer. Today, Swann is part of the Infinova Group, providing the business with enhanced manufacturing capabilities, cutting-edge research and development of security and networking solutions, and access to an expanded international network.
Swann remains at the forefront of innovative and affordable surveillance technology with recent new product developments designed to make it easier to combine everything on the one app ecosystem. With 'Swann Security' you can see and control all your devices, including wired systems, wireless and powered Wi-Fi cameras, and more on a single mobile app. Swann understands that true security is about preventing crime, that's why most cameras now feature sensor lighting, alarms, sirens, two-way talk and more. There's even worse news for burglars, as Swann's Enforcer cameras take crime deterrence a step further by using True Detect heat, motion and people detection to trigger bright red and blue flashing lights, spotlights, mobile alerts, video recording and more. Many of Swann's new products include the latest smart analytics, including face recognition, vehicle and pet detection, as well as peace of mind from both local and cloud recording.
Swann's vision is to be the world leader in smart security solutions, taking care of people and making every home and business a safe place. Home and business needs, and technology, continue to evolve but Swann's commitment is to always deliver security made smarter.