VIP Vision Ultimate 64 Channel Network Video Recorder (384Mbps)

In Stock - Ships from Sydney
Record beyond Ultra HD ~ 12.0MP
64CH NVR with no Power over Ethernet ports
384Mbps incoming bandwidth with H.265 support
8 x SATA ports ~ 14TB, max. 112TB HDD capacity
Supports easy hot-swap hard drive access
High performance Intel quad core processors
Native Ultra HD live view on 4K monitors via HDMI
Smart tracking and intelligent video analytics
RAID HDD optimisation & power redundancy avail
Live view, playback & record via your phone/tablet
Choose from Various Payment Types.
Paypal, Credit Card, ZIP Money, Afterpay, Bitcoin & Direct Deposit
Shipping we're fast!
99% of our orders leave us the same day of ordering. Express Shipping options available at checkout.
Fast Reponses to Warranty & Support
We answer your questions fast. Great Australian Company based out of Sydney for over 20 years.
VIP Vision Ultimate 64 Channel Network Video Recorder (384Mbps)
NVR64ULT8S
4 Years Warranty!
The VIP Vision NVR64ULT8S is a 64 channel network video recorder, designed as a high performance, high capacity, professional IP surveillance solution for enterprise applications. This NVR offers native Ultra HD broadcast-quality image performance and hot-spare RAID support.

Product Features:
• Record beyond Ultra HD up to 12.0MP (4000 x 3000)
• 64CH NVR with no Power over Ethernet ports
• 384Mbps incoming bandwidth with H.265 support
• 8 x SATA ports up to 14TB, max. 112TB HDD capacity
• Supports easy hot-swap hard drive access
• High performance Intel quad core processors
• Native Ultra HD live view on 4K monitors via HDMI
• Smart tracking and intelligent video analytics
• RAID HDD optimisation & power redundancy avail.
• Live view, playback & record via your phone/tablet
This NVR requires external Power over Ethernet switches.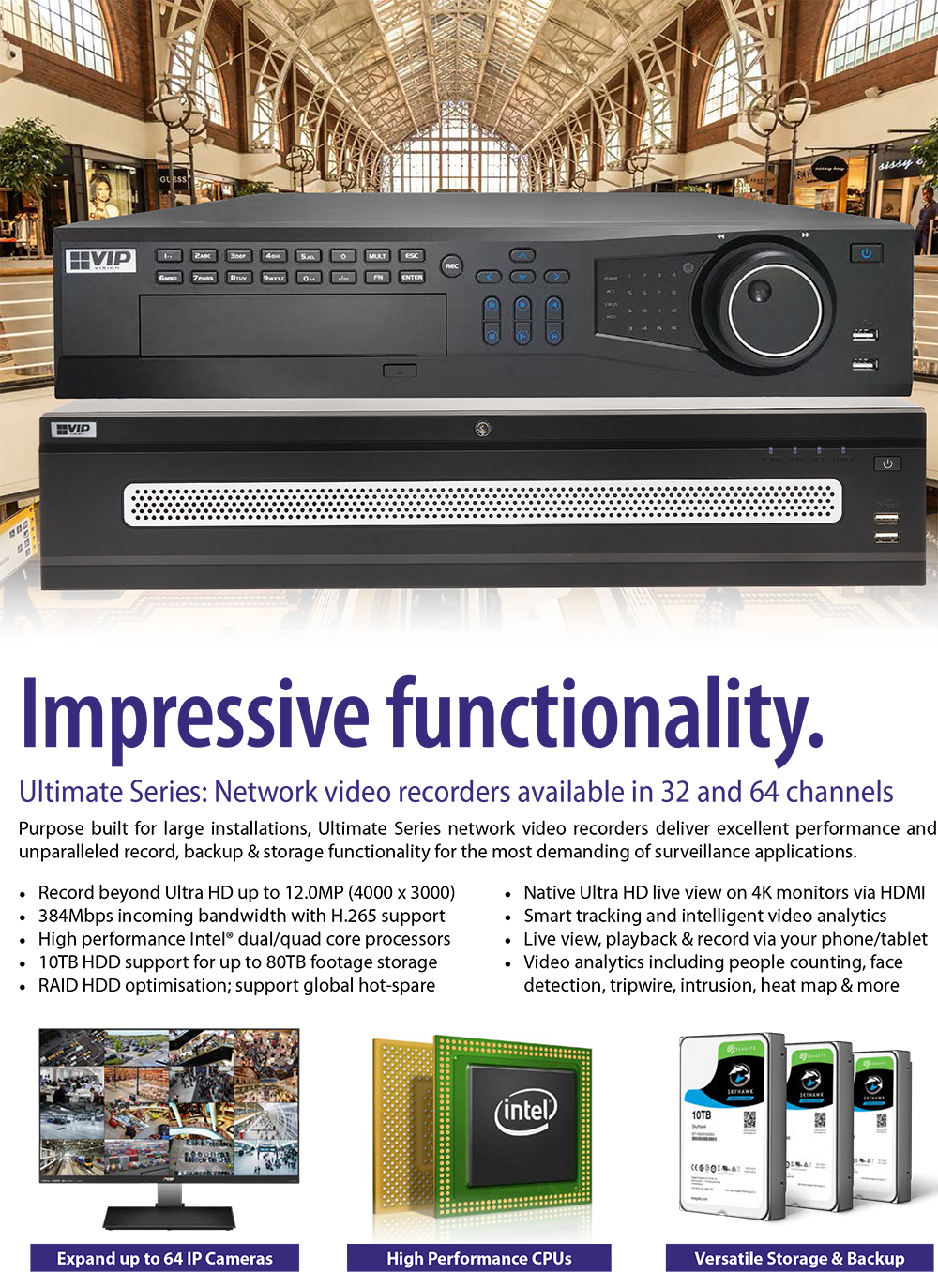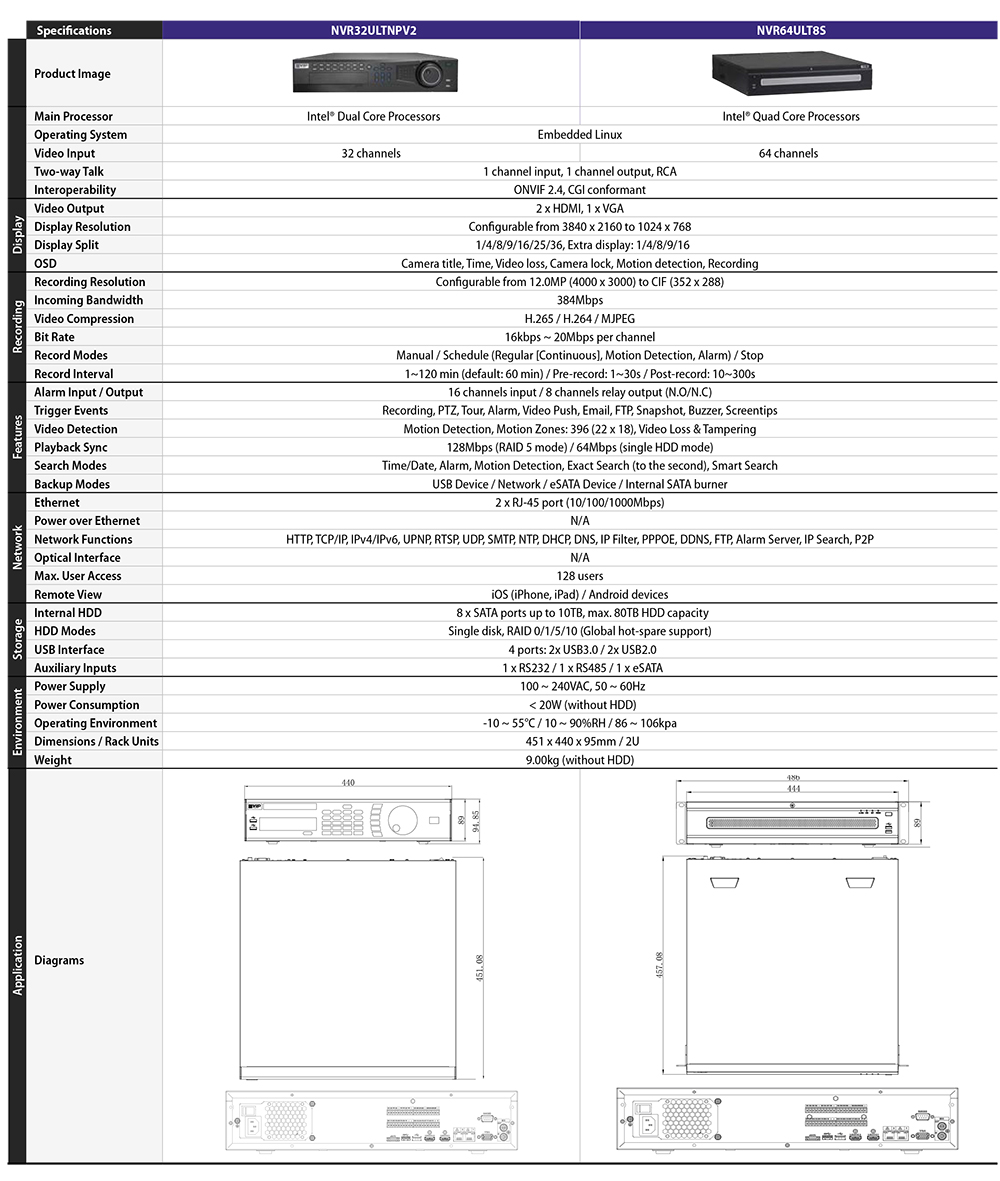 Brand

VIP Vision Australia

Warranty

4 Year Warranty
VIP Vision is backed by over 2,000 professionals in research and development at the forefront of advanced surveillance and IP intercom technologies. Their constant pursuit of innovation delivers cutting edge products with high quality, performance and reliability.
With 4 to 128 channel systems, VIP Vision offers professional video surveillance solutions for small projects through to large commercial, public sector and government level applications.
Stream beyond Ultra HD with 12 megapixel recording using the latest range of VIP Vision IP surveillance cameras. Adaptable to any task, the range offers a wide selection of professional bullet and dome cameras, as well as application specific models such as PTZ, fisheye and pinhole cameras.
VIP Vision IP systems are accompanied by an extensive range of accessories including, video wall controllers, brackets & adapters, central management software and PoE accessories to help you deliver the most professional and reliable install possible.
Rest assured knowing you have usable video evidence when it matters most with VIP Vision IP surveillance.